At the first mention of Barcelona this season, all the talk has been of the formidable front three of Lionel Messi, Luis Suarez and Neymar. It's hard to argue otherwise. The trio have amassed a remarkable 120 goals together in all competitions this season. They have been the razor that has blunted everything in their way, and Juventus in the 2015 Champions League final in Berlin is no exception.
Behind every moment of Messi magic and Suarez skill lies the quiet confidence of a 23-year-old German goalkeeper. With Barcelona head coach Luis Enrique persisting on Claudio Bravo as the number one in the league, Marc-Andre ter Stegen has not had it easy this season. The man signed from Borussia Mönchengladbach at the beginning of the season has had to make the best of only wearing the gloves in both the Spanish Cup and the Champions League. Having sealed the former last weekend, ter Stegen is in perfect form to lift the latter this weekend in his first season in football's elite competition.
There were times this season when ter Stegen was under pressure. Bravo had been performing heroics in the league and the German received a hounding after a poor display in the 3-2 group-stage defeat to PSG. The young keeper was not to be dettered though. Saving a penalty against Manchester City in the round of 16 was one thing, but it was his performance in Munich that was perhaps the turning point. Granted Barcelona lost the game 3-2, but it could have gone a very different way had ter Stegen not been in fine form.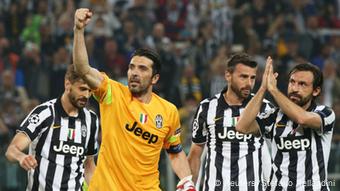 Gianluigi Buffon is also looking for his first Champions League title
Battle of the keepers
"I wanted to improve. I think I have done that, as a person too and that will help me in my life. No one can take away the experiences I have had," said ter Stegen in an interview with German Press Agency (dpa) looking back at his first year in Spain.
Going from club legend to cup keeper has done nothing but motivate ter Stegen, who has won four caps for Germany and is part of Germany's U21 European Championship squad this summer. When asked about his squad position next season and a possible return to the Germany team, ter Stegen's feet remain firmly on the ground: "I'm not thinking about it much. The current set of games is too important. If I worried about it, I would go crazy."
A startling display in football's biggest game would go a long way. This weekend in Berlin, ter Stegen can become the fifth German goalkeeper to win the Champions League, but to do that he must fend off the attentions of tenacious striker Carlos Tevez and a bustling midfield of Andrea Pirlo, Paul Pogba and Arturo Vidal. Quite the opposite to Barcelona though, it is Juventus' defensive that has all the headlines, partly because of the man between their sticks too.
"He [Gianluigi Buffon] is a legend. He really has played a remarkable season. It was great to see him perform the way he did against Real Madrid," said ter Stegen, looking ahead to facing the 37-year-old Italian goalkeeper in the final.
So perhaps the 2015 Champions League final isn't about Messi and co. Perhaps it is a battle of goalkeepers; a young, daring German faces one of the all-time great players and characters of the game in the quest for the top spot in club football. And in football, who would bet against a German goalkeeper?