Five-time Grand Slam champion Maria Sharapova on Monday admitted to failing a drug test at the Australian Open due to a substance she has been taking for 10 years for health-related issues.
"I made a huge mistake. I let my fans down and I let the sport down. I have been playing since the age of four a sport that I love so deeply," the 28-year-old tennis player told a press conference in Los Angeles.
Sharapova tested positive for meldonium, which is used to treat diabetes, heart conditions and low magnesium, of which she suffers a deficiency. However, the substance was banned by the World Anti-Doping Agency (WADA) as of January 1, 2016.
"I was first given the substance back in 2006. I had several health issues going on at the time," Sharapova said. "I was getting sick very often and I had a deficiency in magnesium and a family history of diabetes, and there were signs of diabetes. That is one of the medications, along with others, that I received," she added.
Sponsors begin to distance themselves
The International Tennis Federation, who notified Sharapova on March 2 of the violation, has yet to prescribe penalties for testing positive for the banned drug.
"I know that with this I face consequences and I don't want to end my career this way. I really hope that I will be given another chance to play this game," Sharapova added.
US sportswear maker Nike said it would halt its relationship with her as the case moves forward. "We are saddened and surprised by the news about Maria Sharapova," Nike said in a statement. "We have decided to suspend our relationship with Maria while the investigation continues."
Swiss company TAG Heuer has suspended its negotiations with Sharapova after a 12-year relationship with the Russian star.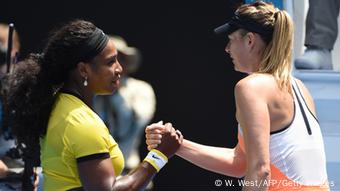 Sharapova (right): "I did fail the test, and I take full responsibility for it."
"We had been in talks to extend our collaboration," the watchmaker said in a statement to the AFP news agency. "In view of the current situation, the Swiss watch brand has suspended negotiations and has decided not to renew the contract with Ms Sharapova."
Sharapova had been contracted with TAG Heuer until December 2015. Meanwhile, comestic manufacturers Avon refused to comment. According to business magazine "Forbes", Sharapova's earnings for 2015 were around $29.5 million (26.7 million euros).
The Russian tennis player has won five Grand Slam titles, including Wimbeldon in 2004 at the age 17.
Doping tars Russian sport
The news comes as Moscow struggles to cope with a doping scandal that has rocked the country's sports world.
Russia was suspended by the IAAF, the world governing body for athletics, in November and its participation at the 2016 Olympic Games looks increasingly unlikely following a string of fresh doping allegations, which were aired on German television this weekend.
However in light of Sharapova's press conference, Russia's tennis chief Shamil Tarpishchev has described the annoucement as 'nonsense' and expects the tennis star to represent her country at the Olympics in Rio this summer.
"The sportsmen take what they are given by the physiotherapists and by the doctors," he told the TASS news agency. I think Sharapova will play at the Olympics. However, we will need to see how this will develop."
ls/jm (Reuters, AFP, dpa)