The Russian team were suspended from competition in November by the International Association of Athletics Federations (IAAF) for widespread and systematic drug violations. But a new documentary by German broadcaster ARD claims the suspension has failed to stop a number of illegal practices.
The program shows a Russian coach offering banned testosterone to an undercover reporter via Skype and also includes footage of leading coach Vladimir Mokhnev continuing to train top Russian athletes, despite his suspension.
ARD's investigative reporter Hajo Seppelt told DW on Monday morning he doubted whether the Russians had made any real changes. "I don't think they (the Russian association) are trustworthy," he said. "I still see very big concerns about the credibility of the Russian athletics team."
'Untrustworthy'
Currently no Russian athletes are able to compete and Seppelt said they needed to look to their own federation for answers.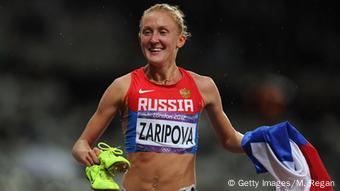 Russian athletes may not be able to compete in this summer's Olympics.
"I think the athletes in Russia, if some of them are really clean - and I can imagine that a few are really clean - [have] to complain towards their athletics federation, not to the IAAF because they (the IAAF) just follow the rules, which are very clear. If a federation cannot guarantee that the athletes are clean then the federation cannot compete at the Olympics."
Clemens Prokop, the President of the German Athletics Federation, called for the international body to take further action, labeling the actions of the Russian "shameful" and the IAAF say they are taking the new allegations seriously. The IAAF issued this statement:.
"The taskforce will look carefully into the matters raised by the latest documentaries, including discussing them with representatives of RUSAF (the Russian Track and Field Federation)."
Russia's sports minister, Vitaly Mutko, was critical of the German broadcaster before Sunday's broadcast. "It's strange that these films continue," he told Russia's state Tass news agency. "That leads to the thought that it's an attempt to exert influence on organizations which must take important decisions."
This summer's Olympics in Rio start on August 5 and Russia will need to overturn their suspension in order to compete.