The ten-year journey of the Tata Nano, billed as the world's cheapest car, has come to an unceremonious end as the Tata Group, one of India's largest conglomerates, pulled the plug on production.
The compact car was the brainchild of Ratan Tata, the former chairman of Tata Group. He came up with the idea of an affordable car after he saw a family of four unsafely traveling on a rainy road in a two-wheeler.
When the compact vehicle was introduced in 2008, Tata wanted to offer millions of Indians the opportunity to own a car at the affordable price of 100,000 rupees (the equivalent of $2,200 or €1,900 at the time). The launch was received with fanfare in India and grabbed global attention.
Read more: India's cash move nearly wipes out Tata Motors profits
Several international awards were bestowed on the tiny vehicle for features such as fuel efficiency, low emission levels, adhering to all the regulations of that time and yet bundled at an affordable price.
However, the Tata Nano faced a barrage of troubles from the start. Political issues and bad public relations resulted in a sharp increase in production costs.
In July 2018, Tata Motors announced that it manufactured just one unit and sold only three cars in the previous month. Additionally, Tata hasn't exported a single unit in 2018. The company said Nano, once hailed as the "people's car," will henceforth be produced only on demand.
End of the road for the Nano
Sales of the Nano started strong, as nearly 70 percent of all the 300,000 total cars sold occurred in the first three to four years after it was launched.
The factory, located in Sanand in the western state of Gujarat, was chiefly set up for Nano with a production capacity of 250,000 units annually. It has gradually progressed to making other vehicles for Tata Motors, India's third-largest automaker.
Pranav Prabhu, a businessman based in southern India, was among the first customers to purchase a Nano in 2008, and he still drives it.
Read more: India protests record-high fuel price hikes
Even after clocking 50,000 kilometers, Prabhu told DW he is impressed by the car's overall performance over the years. "It was comfortable to drive. I was even surprised when I found it could hit 100 kilometers per hour during my long-distance travel," he said.
Many Nano customers agree it was a roomy car that performed well for its price and had reasonable leg room despite its compact appearance. Nano drivers also enjoyed its small size for driving in crowded cities.
Low price, low prestige
Surprisingly, the "negative image" that the Nano slowly gained over the years was due to its low price, which manufacturers thought would be its selling point. Almost all the industry experts and analysts surmise that Nano's brand image of being a cheap car boomeranged, as car ownership in India is often equated with luxury.
VG Ramakrishnan, an industry expert and chief of automotive consultancy Avanteum Advisors, told DW the migration of people upgrading to inexpensive cars from two-wheelers did not occur as Tata would have wanted.
"Despite the product's ingenuity in catering to Indian consumers, Nano encountered some serious challenges," said Ramakrishnan.
Read more: India court cracks down on vehicle pollution
"Being an audacious project, some of the known risks could have been avoided by the Tatas," he added, underscoring the initial choice of location for the manufacturing facility in the state of West Bengal. The controversy dragged the company into political trouble and eventually forced Tata Motors to switch its production location to Gujarat.
Still, the chief reason for Nano's lack of market success is attributed to its image as a "cheap car."
"Somehow I feel the right people were not targeted. The car was limited only to urban markets," Mahesh Bendre, an auto industry analyst with Karvy Stock Broking, told DW.
He highlighted that the Nano could have tasted some success if the company had attempted to penetrate semi-urban and rural areas of India.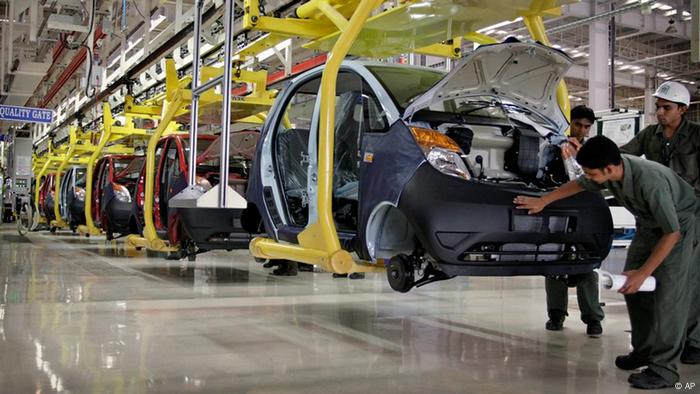 Tata Nano's being produced at a factory in Sanard in Gujarat state
Right brand for the wrong market?
Bendre pointed out that demand for cars at the price range starting at 150,000 rupees still exists, but added that the right consumers must be targeted.
Beyond the inadvertent undesirable marketing outcome, other factors have also played a significant role in Nano's misfiring. Its external appearance, which many have found awkward and vexatious, only made the situation worse for Nano.
"Many vehicles in the small car category such as Hyundai's Eon, Renault's KWID or Nissan's Datsun look much more contemporary and are equipped with better features," Sridhar V, a partner at the consultancy firm Grant Thornton India and an expert on the automotive industry, told DW.
Read more: India's Tata Motors expands production to Indonesia
There has been speculation that Nano could bounce back in the form of a revamped electric car, considering there is growing interest in the market for environment-friendly transportation.
Nonetheless, Nano's badly hit brand image is bound to bite again if it is offered for sale under the same name.
"It's [Nano brand] is beyond repair," Puneet Gupta, a South Asia vehicle sales forecaster at IHS Markit, told DW. "I think people's mindset has changed. They no longer aspire for smaller cars. The drastic decline in the sales of small cars in the same segment also indicates that people have moved on."
Tata Motors did not respond to multiple requests from DW for an official comment.