More than 3,000 people have stood atop Mount Everest since the world's highest peak was first climbed by Edmund Hillary and Tenzing Norgay 60 years ago. Each year, hundreds of climbers ascend the 8,848-meter high mountain.
But not all of them are professional mountaineers. Climbing Mount Everest has become part of the adventure industry. In 2013, the first Saudi woman, set of twins, and female amputee made the summit. Other mountain records include the first wedding, the first video call, and the first Harlem Shake. But all of these firsts come with a downside: the booming alpine tourism industry is having a big environmental impact.
World's highest garbage dump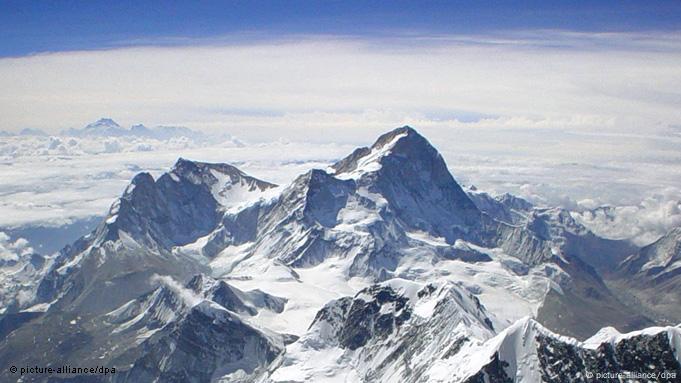 Nepal has eight of the 14 highest mountains in the world, including Mount Everest
Nepalese authorities say that the number of visitors to Sagarmatha National Park, where Everest lies, has roughly tripled in the past 20 years. With the increasing number of tourists comes a growing amount of rubbish left behind on mountains: food wrappers, climbing gear, oxygen cylinders, and even the bodies of climbers who died along the way. The frigid temperatures mean trash does not biodegrade.
Over the past six decades, an estimated 50 tons of trash has been left on Mount Everest, giving it the nickname "the world's highest garbage dump." Mountaineering associations have complained about the growing number of inexperienced climbers leaving their garbage behind in an attempt to save the energy they need to reach the summit or return to base camp alive.
Famous climbers such as Reinhold Messner have said Mount Everest has been trivialized, calling for Nepal to close off access to the mountain for a handful of years to allow it to recover.
New clean-up rules
Now Nepal's tourism ministry has acted, deciding that from this April forward, every climber going beyond the base camp will be required to bring back at least eight kilograms (17.6 pounds) of their personal waste and hand it over to officials stationed there. That's the amount the government estimates an exhausted climber discards along the way. The aim is to make sure that no new trash will be left on Everest.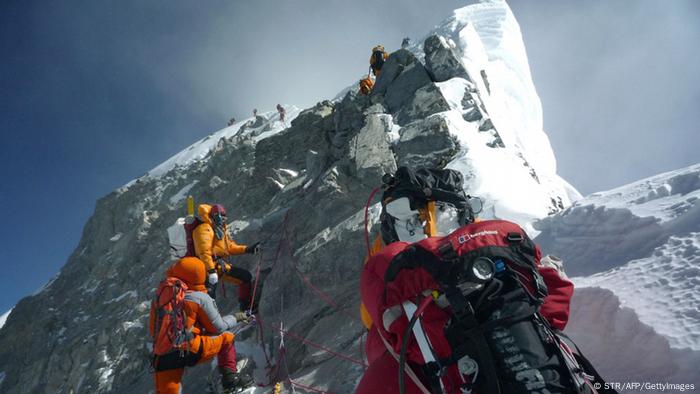 In the future every climber will have to bring back eight kilos of trash from the mountain
Pasang Sherpa, general secretary of the Nepal National Guide Association, told DW he thinks this new garbage rule is a good idea, but what's lacking are clear instructions.
"It's not yet clear how many days after starting the ascent of Mount Everest we have to bring back the trash. And they also didn't say how much has been brought down from which camp. There are many different camps on different heights and we have to know from which camp we have to bring back how much," he said.
If climbers don't bring back their garbage, the tourism ministry will take legal action against them, Nepalese officials said. But what exactly these legal actions entail remains unclear as well.
To this point, Everest climbers have had to pay a deposit of $4,000 (2,900 euros) that was refunded after proving that they brought back everything they took up the mountain, but enforcement has been difficult.
"It's a great concept but how can it be enforced?"
The United States-based mountaineering school Alpine Ascents has been leading expeditions to the Seven Summits, including Mount Everest, for 22 years. Director of Programs Gordon Janow welcomes the new trash rule because he believes there is a personal responsibility for taking items off the mountain. But he told DW he was unsure how the new rule could be implemented.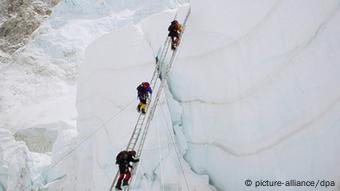 Janow: 'It's mostly individual climbers who are struggling to carry their weight'
"I'm not sure how the process is going to work. Are you weighing everyone's garbage when they get down? Is it okay if my friend took twice as much and I took half as much? If my garbage is two pounds too light, do I run back and grab something or go to the bathroom again?"
According to Janow, Mount Everest can push even the most experienced climbers to their limit and if someone doesn't pick up all of their trash, it doesn't mean that this mountaineer doesn't care about the environment or is lazy.
"If someone is struggling to get down and stay alive it might be hard to think about picking up the trash," he said. "So if someone doesn't come down with eight kilos, will a Nepali attorney find the person in their home country and will a judge say they should've have taken the trash down even though it might have caused them an injury?"
Tourism industry still needed
The new rules were not implemented to limit tourism. The Nepalese tourism ministry in fact encourages the increasing number of climbers and recently cut its fees in half for individual climbers of Mount Everest and other Nepalese peaks to attract yet more tourists. There are also plans to fix additional ropes and possibly ladders to ease congestion at bottleneck areas like the Hillary Step.
After all, Everest's tourism industry earns Nepal $3.3 million a year in climbing fees. On top of that, it supports tens of thousands of trekking guides and hotel owners who depend on climbers and tourists for their livelihoods.
It will take a combined effort from mountaineers, the local Sherpa people and Nepalese authorities to liberate Mount Everest from its piles of rubbish.