A former doctor for the Chinese Olympic team told German media that tens of thousands of Chinese athletes took performance enhancing drugs in the 1980s and 1990s as part of a systematic government doping scheme.
"There must have been more than 10,000 people involved," Xue Yinxian told public broadcaster ARD in a television interview first broadcast on Friday. "All international medals (won by Chinese athletes in that time) should be taken back."
Xue's claim of systematic doping contradicted previous statements by the Chinese government, which had denied any involvement in individual cases of Chinese athletes taking performance enhancing drugs.
Read more: Iditarod dog sled team tests positive for Tramadol in drug doping test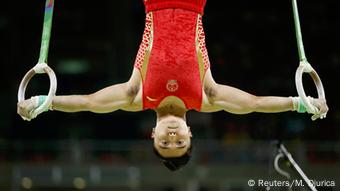 Chinese athletes have been suspected of using banned substances at multiple Olympic Games
Her claim also contradicted comments previously made by Chen Zhanghao, the Chinese Olympic team's chief doctor at the 1984, 1988 and 1992 Olympic Games. In 2012, Chen told the Australian daily The Sydney Morning Herald that "about 50'' Chinese athletes had taken various performance-enhancing drugs during his tenure.
'If you refused to dope, you had to leave'
Xue, who was the Chinese gymnastics team's chief medical supervisor in the 1980s, said Chinese authorities had "insisted that all sports teams had to use doping substances: football, volleyball, basketball, table tennis, badminton, track and field, swimming, diving, gymnastics, weightlifting."
"If you refused to dope, you had to leave the team," she said, adding "the youth-age group teams used the substances - the youngest were 11 years old."
"As long as you were not caught, you were a good athlete. The government only wanted to produce gold medals irrespective of the means," she told German daily Süddeutsche Zeitung (German language) in a separate interview.
Xue said the extent of the problem became apparent after a colleague told her about the unhealthy physical effects certain drugs were having on younger male athletes.
She was eventually fired from the Chinese Olympic team during the 1988 Olympic Games in the South Korean capital Seoul after she refused to use a banned substance on a gymnast, but continued working as a doctor for other sporting organizations in China until she retired in 1998.
'They wanted to silence me'
The 79-year-old fled China with her son, Yang Weidong, and his wife in 2015 and all three have since sought asylum in Germany after Xue spoke about "rampant" Chinese doping practices in an interview with The Sydney Morning Heraldin 2012.
"Anyone against doping damaged the country and anyone who endangered the country now sits in prison," she told ARD.
Xue said government authorities tried to intimidate her before leaving China to ensure she would not talk.
"Once, eight people came to my home. They wanted me not to speak about the use of doping substances. They urged me to give up. I said 'I can't do that.' They wanted to silence me," she said.
The Chinese government refused to comment on Xue's allegations after ARD and the Süddeutsche Zeitungasked for a response.
Safety in Germany?
Xue and her son Yang have been waiting four months for Geman authorities to approve their asylum requests, according to the Süddeutsche Zeitung.
Yang claimed the family had been followed by a Chinese agent near to their asylum center after they first arrived. Shortly thereafter, the family was assigned to a new accommodation.
Speaking of his mother's actions to uncover the state-backed doping program, Yang said, "the government is afraid that these people are pronouncing the truth."