Syrian rebel officials said on Friday they would attend the peace negotiations to be held in the capital of Kazakhstan next week, following meetings between various rebel groups in the Turkish capital of Ankara.
Rebel leaders had previously suspended talks about the planned negotiations earlier this month after alleged violations of the latest ceasefire in the war-torn country.
Their attendance would bring an extra sense of legitimacy to the Astana talks, which were initiated by Russia in the wake of the rebel defeat in eastern Aleppo last month. Syrian President Bashar al-Assad has said his government is planning to attend the talks as well.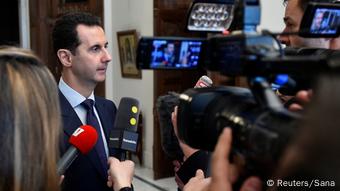 Assad told reporters that he was open to discussing constitutional matters
The rebel groups, which are largely aligned with Ankara, said they will only be there to discuss the implementation of the ceasefire deal, a legal advisor to the Free Syrian Army told German news agency DPA.
Mohammad Alloush, the head of the political office of rebel group Jaish al-Islam, told Reuters news agency that he is planning to head the delegation. Some rebel groups, meanwhile, such as the hardline Islamist Ahrar al-Sham, have refused to attend.
'Everything' on the table
Assad told reporters last week that he was open to negotiation on "everything," including his position as president, in the lead-up to the talks, which are scheduled to take place on January 23. The president also indicated that he was willing to sit at the table with rebel leaders.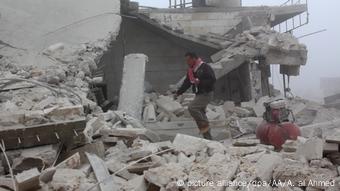 The rebel defeat in Aleppo was a turning point in the ongoing war
Assad has never been in a stronger position since the start of the war than he is today, though some observers are still skeptical about what the negotiations in Astana will accomplish, if anything. Fighting has continued in the country despite the ceasefire. Powerful Kurdish groups that control parts of northern Syria along the border with Turkey have been excluded from the talks, and the so-called "Islamic State" terrorist group is battling the Syrian army to reclaims key parts of the country.
The US, meanwhile, has not played an active role in the latest negotiations. The Astana talks are largely seen as a humiliation for Washington, which has seen its own attempts at reaching a peace accord in Syria fail repeatedly.
War in Syria broke out in 2011 in the wake of the Arab Spring as various opposition groups, some backed by Washington and its regional allies, sought to topple the Assad regime. A turning point came at the end of 2015 when Russia intervened militarily on the side of Assad, eventually wresting control of Aleppo from rebel fighters there.
blc/se (Reuters, dpa)