Government-controlled parts of Syria are holding widely criticized parliamentary elections on Wednesday, the same day UN-mediated peace talks convening warring parties restart in Geneva amid concern a fraying ceasefire could undermine efforts to end nearly five years of conflict.
With more than half of Syria's population displaced and swaths of territory under the control of a dizzying array of armed groups, Wednesday's vote to elect 250 members to the People's Assembly have been widely viewed as a sham to give President Bashar al-Assad and his Baath Party a veneer of legitimacy.
The vote comes as the UN envoy for Syria, Staffan de Mistura, aims to renew "proximity talks" among opposition groups and regime representatives to chart a political transition.
The UN dismissed the parliamentary elections, and last week de Mistura said he was more interested in elections the UN Security Council voted should be held in 18 months as part of a political transition.
Russia, on the other hand, called the elections necessary, insisting they would avoid a power vacuum.
"There is understanding already, that a new constitution should emerge as a result of this political process, on the basis of which new, early elections are to be held," Russian Foreign Minister Sergei Lavrov said.
Meanwhile, France described the vote as a "sham."
Fragile peace talks
On Wednesday, de Mistura will meet with the High Negotiations Committee, an umbrella rebel and opposition body backed by Turkey, Saudi Arabia and Qatar. Then on Friday the UN envoy will meet with regime representatives led by Syria's UN ambassador.
Syrian Kurds, key actors who have set up autonomous zones, have not been invited to the talks.
The last set of negotiations in Geneva were put on hold nearly as soon as they started in February over disagreements on the fate of Assad as the Russian air force backed a regime offensive that cut off rebels' supply line from Turkey to Aleppo.
The opposition demands Assad step down and that talks focus on a transitional body with full executive powers. The regime and its backers, mainly Russia and Iran, argue the Syrian people should decide Assad's fate and the focus should be on fighting terrorism.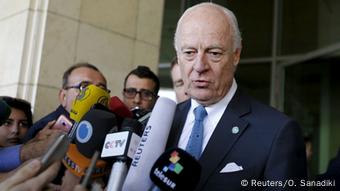 De Mistura has been talking with Russia and Iran about a political transition for Syria
A late-February deal brokered by the United States and Russia instituted a "cessation of hostilities" between regime-allied forces and rebel factions participating in the peace talks led to a significant reduction in fighting across multiple fronts in March. The agreement did not, however, put an end to attacks on "Islamic State" (IS) or al-Nusra Front militants.
Russia and the regime used the nearly month-long lull in fighting to free up resources to dislodge IS from the ancient city of Palmyra. That victory carried both strategic and symbolic significance, opening up the possibility of Syrian forces advancing on IS-controlled Deir ez-Zor and Raqqa further to the east and sending a message to the West that the regime may be the best bet to defeat IS.
Meanwhile, rebel factions in northern Aleppo have used the ceasefire and absence of a frontline with Syrian forces to turn their attention on IS territory along the border with Turkey.
Uptick in fighting ahead of talks
However, the ceasefire has looked increasingly fragile over the past two weeks, putting in jeopardy an internationally backed process to end a conflict that has claimed between 250,000 and 500,000 lives over the last five years.
Over the weekend Syria and Russia suggested a renewed offensive could be launched to retake rebel-held parts of Aleppo.
Fighting has been particularly intense over the past two weeks in the Aleppo countryside, where the al-Qaeda affiliated al-Nusra Front and allied rebel groups went on the offensive. Al-Nusra operates in some of the same areas as other rebel factions, making both a target for regime forces and the Russian air force.
Continuing an alliance that has defined the Syrian conflict, Islamist rebel factions, including Ahrar al-Sham, one of the largest Islamist rebel groups and a party to the ceasefire, are also actively fighting alongside al-Nusra, according to the Syrian Observatory for Human Rights, a UK-based monitoring group.
Fighting among regime forces and rebel factions has also been reported in the eastern Damascus suburbs and northern Latakia.
US Ambassador to the UN Samantha Power said on Tuesday she was "very alarmed" by Syria's planned counteroffensive around Aleppo.
"That would be devastating, for the people of Aleppo of course, but also to this intricate process where the cessation of hostilities, humanitarian access and political negotiations are all related to one another," she said.
The United States is concerned a Syrian counteroffensive against al-Nusra could spread to rebel groups that are a party to peace talks.
cw/sms (AFP, AP, dpa)