Sotheby's auction house fetched a remarkable price on Tuesday for the Patek Philippe pocket watch, arguably the highlight of the annual autumn jewel and watch auctions in Geneva run by Sotheby's and Christie's.
The Henry Graves Supercomplication fetched just over 23 million Swiss francs (CHF), equivalent to more than 19 million euros or almost $24 million. The vendor remained anonymous.
"The Henry Graves Supercomplication re-established its supreme status as the most valuable timepiece in auction history, selling for CHF 23,237,000, thereby beating the record of $11 million it established in 1999," Sotheby's announced in a statement after the evening sale.
The Supercomplication was estimated to sell for a considerably lower price, with Sotheby's predicting $15 million for what it called "the most important watch in the world" prior to the auction.
Manhattan masterpiece
The gold open-faced pocket watch, made up of 900 parts, was commissioned by the banker and watch collector Henry Graves Jr. in 1925. During the boom years in 1920s America, Graves was eager to outdo the automobile magnate James Packard's prized timepiece. It took premium Swiss watchmaker Patek Philippe eight years to meet Graves' specifications, by which point the post-war bubble had burst on Wall Street and Graves might even have regretted his purchase.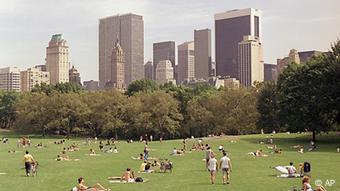 The watch was custom-made with Manhattan in mind
In the original certificate of origin, Patek Philippe helped coin the watch's name, describing the timepiece as a "double-faced, supercomplicated watch." Designed for a resident of Manhattan, the watch boasts a star chart tracking the nighttime sky over Central Park, also tracking times of sunrise and sunset for Graves' old home on the corner of Fifth Avenue and East 64th Street. Various other features, which sound somewhat less impressive in the digital age, include an alarm, a chronograph with a split timer function able to time two simultaneous events, and a chart following the phases of the moon.
For the purposes of jewel and watch enthusiasts, Geneva might as well be Mecca right now. Christie's and Sotheby's are holding their annual week of auctions in Switzerland dedicated to such items. Other spectacular pieces on the block include the "Feuilles de Grosellier" brooch, a piece drawn from the French crown jewels commissioned in 1855 by Empress Eugenie, and a pearl necklace that once belonged to Josephine de Beauharnais, later the queen of Sweden and Norway.
Christie's helped kick off the week with the sale of 100 Patek Philippe wrist and pocket watches on Monday to mark the Swiss company's 175th anniversary; however, the value of every single lot combined ($19.7 million) was eclipsed by the Henry Graves Supercomplication sold at Sotheby's on Tuesday.
msh/mkg (AFP, Retuers)