Swedish police said Tuesday they were hunting for suspects who broke into Strangnas Cathedral and stole two crowns and an orb, a symbol of royal authority.
The theft took place around lunchtime Tuesday, while the 13th century cathedral was open to visitors. The two men smashed the protective cases, grabbed the loot, and fled towards the shore of a nearby lake.
"I saw a little, white boat and the men jumped in the boat and sped away," a witness told the Swedish daily Aftonbladet.
In a press statement, police said they then launched a manhunt by land, sea and air, but by the evening had not been able to catch the robbers.
Police spokesman Thomas Agnevik refrained from describing them as professional thieves, saying it was possible that they had left traces at the scene.
"The score is 1-0 for them right now, but we don't know what it will be like tomorrow," Agnevik said.
Read more: Swedish monarchy 'aren't special at all,' says author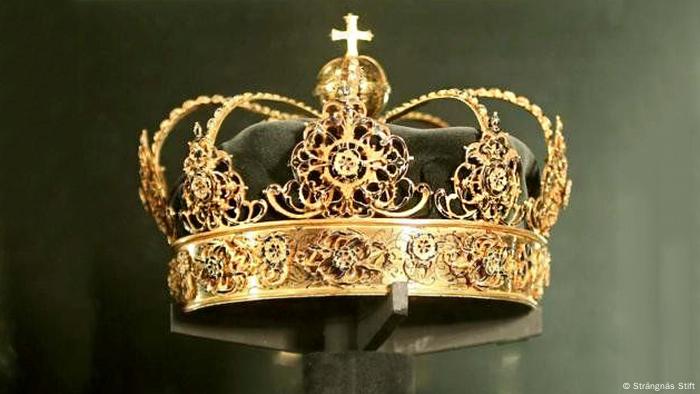 One of the stolen crowns belonged to Queen Christina, the second wife of King Charles IX of Sweden
The stolen items, made of gold, pearls and other precious materials, once belonged to Charles IX and his wife Christina, who ruled Sweden in the 17th century. They were buried in the cathedral which is located some 58 kilometers (37 miles) west of the capital Stockholm.
Talking to the Sydsvenskan newspaper, church dean Christofer Lundgren said the items were insured, but stressed that the cultural value of the treasures is bigger than their material value.
"These are items that are completely unique, well-known ... in Sweden and probably even internationally," he said.