Mans Zelmerlow's song "Heroes" had already proven popular with audiences in advance of the Eurovision Song Contest, being by far the most often-heard song among this year's entries on Spotify. It registered 15 million streams on the music service, with Italy's entry a distant second place at 2.5 million.
The song's ingredients are an appealing melody and singer as well as his cleverly designed animated sidekick, fashioned from sophisticated projected light effects.
The results were determined in equal measure by national juries and call-in votes from the 40-country broadcast region. Voting patterns were consistently regional, with countries frequently supporting their neighbors.
Russia took an early lead, then Italy, before Sweden tipped the balance and settled into a comfortable lead more than halfway into the announcement of the voting results, consigning Russia to second place.
The success of Russia's "A Million Voices" was a credit to the pure glamour radiated by singer and model Polina Gagarina. The song's message of peace had been described as a cynical entry in this year's competition, coming from a country that has been perceived as destabilizing its neighbor, Ukraine.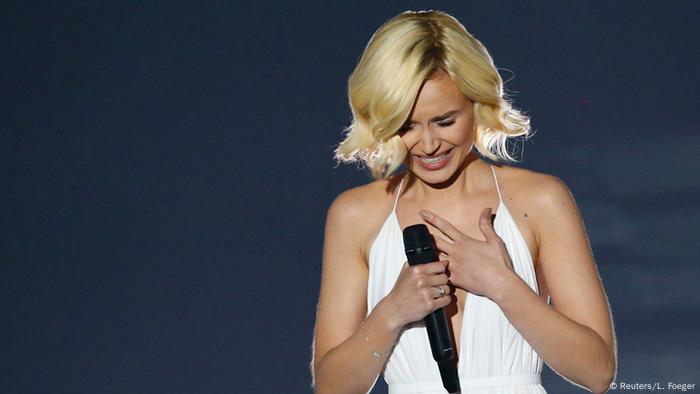 Polina Gagarina: A million voices, but just a few shy of victory
Gagarina delivered the song with emphasis and evident tension, as expectations for the act had been high. The very general message: "We are all human, we all share the same joys and fears." The German television audience awarded its highest number of points to Russia.
Italy was awarded third place. Doing full justice to the Italian tradition of singing, the song "Grand Amore" was the final act among the competition entries and featured three young operatic singers performing song material commensurate to their abilities. Tenors Piero Barone and Ignazio Boschetto and baritone Gianluca Ginobile have already released internationally successful albums.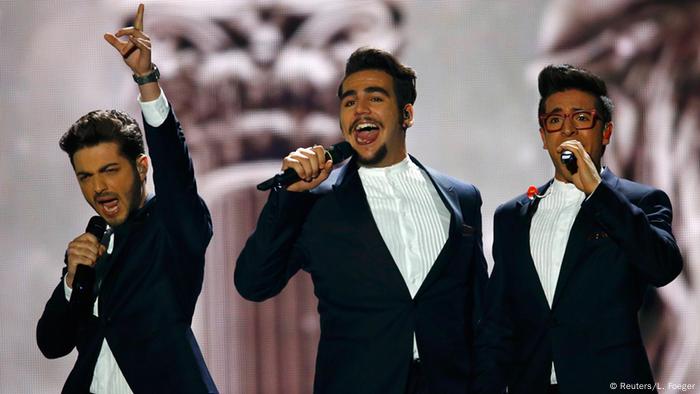 Italy's act featured three booming voices
The 60th Eurovision final show began with a notably classical touch, with a performance by the ORF Radio Symphony Orchestra, a violinist and a children's choir. Last year's winner, Conchita Wurst, then flew in - literally - suspended from a cable and soaring over the heads of the 14,000 attendees in the Vienna Stadthalle.
Over the course of the evening, Conchita, the drag artist called "Queen of Austria" in the current ESC season, proved a poised co-host. She shared the limelight with the evening's three official hosts, Mirjam Weichselbraun, Arabella Kiesbauer and Alice Tumler, livening up their wooden dialogue in a form of English calculated to be understood across the continent.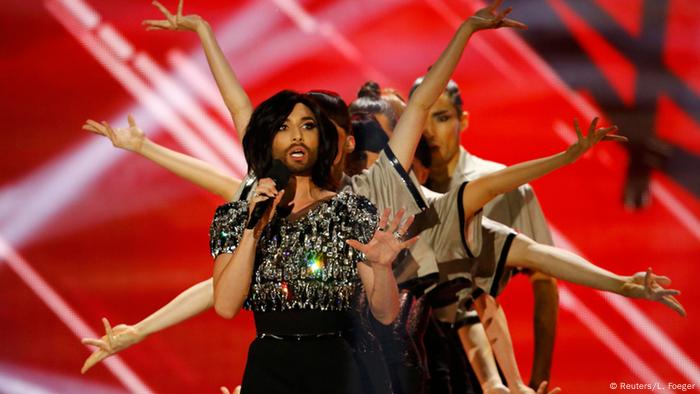 Conchita, queen of the show
A multi-genre intermission filler was provided by Austrian multi-percussionist Martin Grubinger, enhanced by a percussion and brass ensemble and a children's choir.
It was a year with many strong contenders and without clear favorites among the public and journalists. The styles ranged from retro soul (Slovenia's "Here for You") to hardcore party sounds (Israel's "Golden Boy") to Roaring Twenties glam (Great Britain's "Still in Love With You") and a number of examples of the trademark Eurovision crescendo power ballad. Other songs had an anti-war message or one of political reconciliation (Russia, Hungary, France), while Armenia's recalled genocide.
Germany's Ann Sophie, with her song "Black Smoke," was awarded zero points.