British police stung by criticism that they failed to respond to an alarm as the robbery unfolded in London's Hatton Garden jewelry precinct said they also recovered bags of high-value items Tuesday.
British media have speculated that depositors had as much as 200 million pounds (275 million euros) in gems and cash stashed in the commercial vault.
Scotland Yard said the seven suspects, aged from 48 to 76, were arrested in north London and the county of Kent to the capital's southeast during overnight searches of 12 premises by 200 police officers.
It appeared certain that valuables found at one address included "items stolen during the burglary," police said.
Later on Tuesday, the Metropolitan Police announced that two further suspects, aged 43 and 58, were arrested in London, taking the full tally to nine.
Police seek owners
Detective Superintendent Craig Turner asked deposit box victims to be patient while police tried to sort out the ownerships of the recovered loot.
"Police officers will be in contact with them," Turner said, adding that the investigation by detectives had been "exceptional."
Two-night operation
At Easter, the thieves abseiled down a lift shaft into the deposit's basement, bored through a two-meter concrete wall and wheeled off the valuables in garbage bins.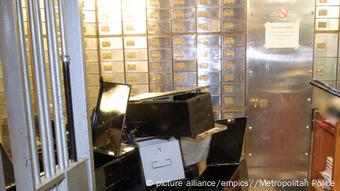 The precise nature of what was stolen, from the murky world of safe deposit boxes, might never be known
London's metropolitan police commander Peter Spindler apologized afterward as alarm procedures involving security firms and police were not properly followed.
He said, however, that a security officer who visited the building but deemed no action was necessary "saw what my officers would have seen," had they been deployed.
The robbers worked over two nights to extract the haul, leaving no exterior sign of damage on the building, which was shuttered for the holiday weekend.
Gem dealer hub
Hatton Garden is home to almost 300 diamond, gold and gem dealers and has more than 50 jewelry shops.
Britain's previous record heist occurred at Tonbridge, southeast of London, in 2006. Robbers stole almost 53 million pounds in cash.
In 2000, police foiled a daring bid to steal diamonds at London's Millennium Dome.
ipj/msh (AP, dpa, Reuters)