GM's decision was a blow to German Chancellor Angela Merkel, who was on a visit to Washington, and who had in the past strongly supported the move to sell Opel to Canadian auto parts supplier Magna.
In a statement read to journalists in Berlin, government spokesman Ulrich Wilhelm said the German government "regrets the decision" and that Merkel would convene her cabinet on Wednesday to discuss the move.
German Economics Minister Rainer Bruederle called GM's U-turn on Opel "totally unacceptable" and said he expected General Motors to present a restructuring plan as quickly as possible.
The decision was an abrupt end to months of talks in which the German government had agreed to provide 4.5 billion euros ($6.6 billion) in financial aid for the Magna deal in September.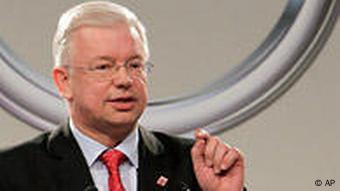 Koch says he is worried about Opel's future
State leaders defend their Opel factories
In the German state of Hesse, where Opel has its European headquarters, state premier Roland Koch said he was "shocked and angry" over the decision to scrap the sale of Opel.
"In light of the negative experiences of the past years with GM's business model, I am very worried about the future of this firm and its jobs," Koch said.
Koch also said that he expected General Motors to pay back the 1.5 billion euro transition loan that is currently keeping Opel's day-to-day operations afloat "so that the German taxpayer does not suffer the loss."
Facing a possibly contentious election next spring, Juergen Ruettgers, the state premier of North Rhine-Westphalia, where Opel's Bochum plant is located, said that "turbo-capitalism had reared its ugly head" and that GM was "leaving its workers out in the rain."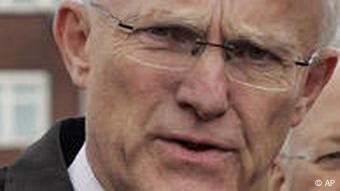 Juergen Ruettgers says GM has 'left workers in the rain'
Ferdinand Dudenhoeffer, a German expert on the auto industry, was also highly critical of the GM announcement, calling it "the umpteenth restructuring plan" and accusing the US carmaker of having no real strategy for its European business.
Dudenhoeffer warned that GM now faces disappointed workers, who distrust a weakened management, and lots of red ink.
Reiner Einenkel, the German works council chief at Opel's factory in Bochum, said GM's decision created "a difficult situation for employees…[because]…GM needs money to keep Opel running."
Opel works council president Klaus Franz has called for warning strikes at the carmaker's facilities across Europe beginning Thursday.
Decision affects workers across Europe
About half of Opel's 50,000 employees work in Germany, with the rest divided among auto assembly plants located in Britain, Spain, Belgium and Poland. Engines, transmissions and powertrains are also built at Opel subsidiaries in Italy, Hungary and Austria.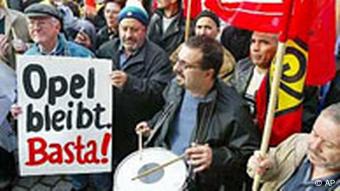 Opel employees at an earlier demonstration in Germany
Representatives of Spanish Opel workers on Wednesday expressed surprise at GM's decision to keep Opel, saying they were "exhausted by so much uncertainty."
Employees at Opel's Figueruelas plant near Zaragoza deplored the sudden change of the situation after weeks of tough negotiations. Spanish Opel workers had reached a deal with Magna to cut 900 out of 7,500 jobs, instead of the 1,300 originally planned.
In Belgium, the news "was not good for Antwerp" said Kris Peeters, the governor of the Dutch-speaking Flanders region, referring to the plant located there.
The British government said it would work with General Motors on future proposals for Opel.
"We have noted GM's announcement and want to work closely with GM to understand their plan for the business and what it means for the UK," a spokesman for the Department of Business said.
Britain had been unwilling to support the restructuring plan by Magna for Opel, fearing job losses at Opel subsidiary Vauxhall.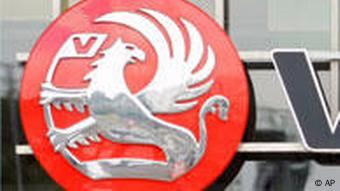 At Opel Vauxhall in England the unions are happy
News not all bad
The British trade union Unite, however, welcomed GM's move, calling it "an incredible turnaround."
"It is the best decision for Britain and our plants," Unite general-secretary Tony Woodley said. "I am absolutely delighted that General Motors has finally done the right thing for them and for us," he said.
German auto analyst Dudenhoeffer said a "plausible scenario" now would be a bankruptcy plan for Opel, which would include plant closures in Bochum and Kaiserslautern in Germany, Antwerp, Belgium and Ellesmere Port in England. But, he warned, although a restructuring plan can cut costs, it cannot replace a weak product line.
gb/dpa/AFP/AP/Reuters
Editor: Trinity Hartman