Two decades of civil war in Sudan between the country's mostly Arab Muslim north and the predominantly Christian Black African south left two million people dead. Armies from both sides enlisted children in their ranks.
In 2005, a peace agreement signed to end the war also required a demobilization, disarmament and reintegration effort to send these children home.
But five years later and just months ahead of the December deadline, reports suggest there are still several hundred child soldiers in southern Sudan.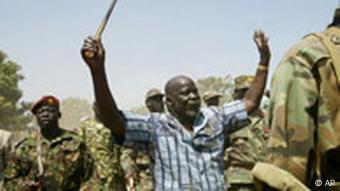 Demobilization of child soldiers was part of a 2005 Sudan peace deal
Learning to handle a gun
Jonathan, whose name has been changed to protect his identity, was 11 years old when soldiers from the Sudan People's Liberation Army (SPLA) forced him into the military.
"When the SPLA came to us, the older people ran away. I didn't run because I was a child," he said. "So they captured me. When I refused, they kept beating me. I didn't want to go, but they forced me to join the SPLA."
For the next five years, Jonathan carried the soldiers' bags, washed their clothes, cooked their food and collected firewood for them. He said refusing to work would have meant being beaten by three or four people.
Eventually, Jonathan was trained to use a gun. He was given his own AK-47 assault rifle and sent to the frontlines to battle the Messiria, a tribe of Arab nomads who bring their cattle to graze on land in southern Sudan.
Jonathan says he shot at them but never killed anyone.
"I think it was very bad for me to be in the military when I was 12 or 13 years old, but there was no other option for me," he said. "Because if I wanted to go away, these people - they would look for me, really."
"I found it difficult for me to be in the army when I was that young," Jonathan said.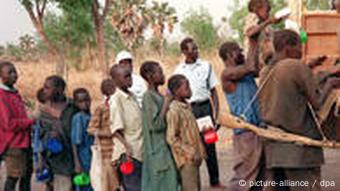 Armies in both north and south Sudan enlisted child soldiers during the civil war
SPLA 'a persistent violator'
In a May report, the United Nations named the Sudan People's Liberation Army a "persistent violator" of children in armed conflict. The SPLA signed an action plan last year with the UN to get all children out of its ranks before December 2010.
Another report issued in June by the research organization Small Arms Survey said progress for the demobilization has been "slow," and communities receiving ex-combatants are faced with a dual economic and social burden.
In the capital of Unity State, Jonathan was one of 91 children demobilized in southern Sudan on April 29. When government officials came to his military barracks, he thought they were lying when they said they were going to take him home. But that's exactly what happened.
Glad to be home
While it took a little while for Jonathan to adjust to civilian life, he said he feels comfortable now and is glad to be home. He plays soccer with friends on the weekends.
"I found it very nice for me to be home because I found some friends here," he said. "And also my family told me they missed me a lot."
"Now, if they tell me to go back to the army, I will refuse because I missed my family very much when I was in the army," he added.
The UN's May report found that 33 former child soldiers had been demobilized last year only to be recruited once more by the south's army.
Charles Machieng, the head of the South Sudan Demobilization, Disarmament and Reintegration Commission for Unity State, said when he prepares the children to leave the military, they ask him questions about their future back at home.
"Children are actually asking us, 'Why are you removing us from the army and taking us to the village where we do not get clean water, where we are not getting schooling, we're not getting medication, and we're not getting enough food?'" Machieng said.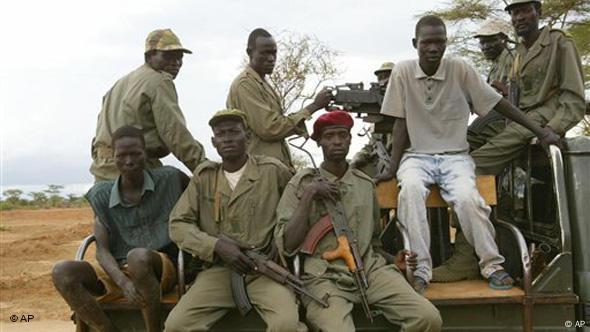 The SPLA agreed to demobilize children from its ranks by December 2010
Lack of funds
But the demobilization commission doesn't have the resources to give material support to demobilized children. The government relies on international organizations such as the UN's World Food Programme to provide the children with food. The commission is asking the international community to contribute more aid to keep children from returning to the barracks.
Bismarck Swangin, a communications officer for UNICEF in southern Sudan, said demobilized children have the same needs as those who haven't been in in the military. The South Sudan government, he said, could do more to help the demobilized children.
"We are aware of the challenges, the challenges of these children who are coming out of the military - the same challenges of the children who are even in the homes, including even those who stay with their parents," he said. "But I think there is an opportunity to do more. I think the government needs to step up in terms of allocating more resources."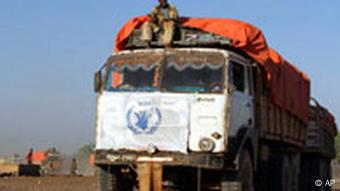 Demobilized children rely on supplies from groups like the UN's World Food Programme
Limited success
Today, about 900 children are still believed to be serving in the south's military, down from an estimated 3,000 in 2005.
"I think the process is working," Swangin said. "But sometimes not up to expectations."
Unlike many children who worked as child soldiers for the SPLA, Jonathan, though an orphan, is lucky to have an uncle with the resources to afford him an education. He said he plans to get a doctorate.
"What I dream for, if I finish my studies - I can become like General Salva Kiir Mayardit, or I can become president like Omar al Bashir," he added.
But, unlike Bashir who seized power in a 1989 military coup, Jonathan has had enough of the military.
Author: Zack Baddorf (rb)
Editor: Anke Rasper