The incident in question – one of a string of similar crimes in recent years - involved a 29-year-old who was confronted by an 18-year-old youth on the platform of the Friedrichstrasse subway station in the early hours of Saturday morning.
The youth provoked the man, then punched him in the face and repeatedly kicked and stamped on his head. The brutal attack was captured on the station's CCTV. A passing tourist stepped in to diffuse the situation and was himself attacked by the youth who then fled, together with an accomplice.
The two later handed themselves in to police. In his statement, the youth admitted to being drunk, in an aggressive mood and on the hunt for trouble. After questioning the pair were released pending a court hearing.
While incidents like this have become alarmingly common in recent years, the release from custody of the two who had admitted responsibility for the Saturday morning attack caused uproar in Berlin and prompted questions to be raised in parliament as to whether their treatment had been too lenient.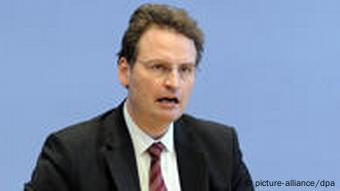 Dr. Günter Krings has called for tougher punishments for crimes of this kind
Dr. Günter Krings, deputy parliamentary group leader of the conservative CDU, announced Tuesday that the Justice Ministry was working on a draft law to introduce what he called a Warnschuss-Arrest – literally a warning shot detention – which would see young offenders serve an automatic, short-term prison sentence in addition to receiving a suspended sentence.
However, Christian Ströbele of the Green Party rejected such a tightening of the law as "utter nonsense" on the grounds that existing maximum penalties are rarely applied.
On the streets of Berlin, it seems the issue is also dividing opinion.
"At first glance it's easy to insist on tougher punishment," one man said in an interview with Berlin's evening TV news program, "but when you are dealing with young people it's perhaps not so easy to send them straight to prison."
But a woman commented, "The criminal is free to roam the streets while his victim is lying in hospital; it hardly seems fair."
Weigh up the risks
The passerby's intervention in this case almost certainly saved the 29-year-old man's life but many members of the public may feel reluctant to intervene in a violent situation. Head of the German Union of Police Officers Konrad Freiberg pointed out in an interview with Deutsche Welle that failing to offer assistance is a criminal offense.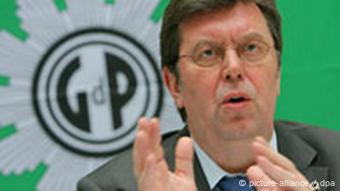 "Don't endanger yourself but don't look away" is Konrad Freiburg's message
"You could be prosecuted if you see a situation where you could help but don't," Freiberg warned. "But you needn't endanger yourself," he added. "Assess the situation, see what the hazards are, does the criminal have a weapon for example? Form a group near the crime scene with other witnesses, show you are together, keep your eyes open and call the police. Only if you are confident that it is safe to do so, should you step in and try and break up the situation yourself."
The victim of Saturday morning's attack suffered concussion and severe bruising to the face. The attacker and his accomplice were charged with criminal assault. While the debate hots up about what should be done in cases like this, the two youths involved in this incident remain free. A court date has yet to be set.
Text: Gavin Blackburn
Editor: Susan Houlton