A study on violence in German prisons surprised researchers looking to get an idea of the amount of aggression in jails. One out of four prisoners in German jails experienced an act of violence in the month before the study was conducted. The number jumped to half of the people held in facilities for young offenders. Seven percent said they were subjected to sexual abuse - a very high percentage, said Christian Pfeiffer, who heads the Criminological Research Institute of Lower Saxony. That institute conducted the study.
Nearly 6,400 prisoners in 33 prisons took part in the study, which involved an anonymous questionnaire prison officials were not allowed to see.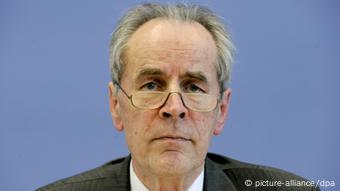 Pfeiffer said he was surprised at the level of violence in prisons

"The scale of violence surprised us very much," Pfeiffer said, adding that he was shocked by how often violence occurs in parts of the prison where guards can see everything that is happening. Violent acts were also reported in areas where guards did not have a complete overview of inmates' actions, such as showers, parts of the prison where inmates worked and in communal cells.
Brutal juveniles
Researchers were also struck by the levels of violence reported in facilities for young people.
"The very brutal violence that occurs in the living areas of juvenile prisons clearly show that our education concept is wrong," Pfeiffer said, adding that as soon as doors were closed and guards could no longer see what was happening, survival of the fittest took over. Weaker people paid the price for stronger prisoners to build up reputations for being tough.
The research institute called for the idea of communal living areas to be reconsidered. Cells should only be opened when prison personnel are present and more camera were needed to watch keep track of what happens in the prisons, particularly older prisons, in order to prevent unseen acts of violence. The institute also suggested prisoners start their sentences with a large amount of space that could be gradually taken from them if they engaged in violent acts. Finally, the researchers argued prison personnel should not be reduced.
State criticism
Anton Bachl, head of the German Association of Prison Officers, also warned against cutting prison staff.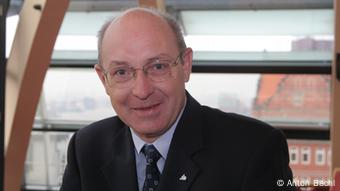 Bachl said prison staff can help more as prisoner numbers drop
"Now, at a time when inmate numbers are falling, we should make use of all resources at our disposal," he said.
Criticism came from the state justice ministries in North Rhine-Westphalia (NRW) and Baden-Württemberg. Officials at the ministries denied that violence in prisons was a mass phenomenon. There were over 48,000 inmates in prisons in NRW in 2011, and 587 instances of minor violence. The Baden-Württemberg Justice Ministry had registered 30 cases of alleged abuse, less than half as many as in 2005.
But Pfeiffer said such numbers represent "cherry-picked research."
"I am very surprised that the ministers were brave enough to stand before the public and say, 'Everything is better here!' - even though they have no solid basis for claiming so," Pfeiffer said.
'Might makes right'
Bachl agreed that the states had shut their eyes to the reality of the situation in prisons. North Rhine-Westphalia and Baden-Württemberg, however, were not among the five of Germany's 16 states that participated in the study.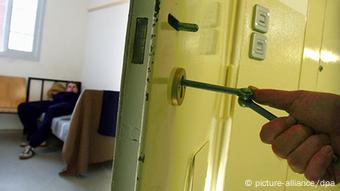 Guards can't always see what happens behind closed doors

The sentencing laws applied to young offenders in Germany were changed at the beginning of July, now allowing judges to tack on a so-called "cautionary confinement" of up to four weeks in prison to a young person's probation.
The time in detention is intended to have a deterring effect. But criminologist Pfeiffer said the punishment would lead to more violence among young inmates.
"They'll learn that 'might makes right' will guarantee survival - and that's it," he said.