"Especially in the eastern parts of Berlin, they are far more violent than anywhere," said 19-year-old Sebastian, who preferred not to give his real name in the interest of his personal safety. "At Eberswalder Strasse [in Berlin] a month ago, a group of neo-Nazis attacked a black guy who was talking to a white woman and nearly killed him."
Sebastian joined Antifa, an "anti-fascist" far-left group, when he was 14 years old and now works for a number of different left-wing education programs. He lives in a part of Berlin where there is a lot of far-right, neo-Nazi activity.
Unfortunately for Sebastian, the neo-Nazis know who he is and have attacked him on numerous occasions. These days he doesn't leave his home without a can of pepper spray.
"I live between two right-wing people who have a lot of influence and who have attacked anti-fascists in the past. They know my face. They know my name," said Sebastian.
Sebastian said that violence between left-wing and right-wing groups in Berlin is escalating and he is considering moving to another part of the city. A number of Sebastian's friends are also known to the neo-Nazis.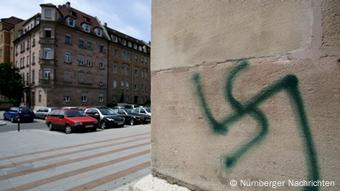 The neo-Nazi scene actively recruits new, young members
"Some of them had to move out because neo-Nazis threw stones through their windows and were painting [slogans like] 'We're gonna get you, we're gonna find you, we're gonna kill you,' and stuff like that. That's a pretty common thing," said Sebastian.
Neo-Nazi groups tend to attack immigrants and those they don't consider German enough - people who aren't Caucasian, but also left-wingers, homosexuals, Roma and anyone who doesn't fit their narrow world view.
Recruiting young people
Sebastian explained how one of his friends was recruited by a neo-Nazi group.
"He was very young and he had no experience at all. They were just like a family to him. They went on camping trips and said "Heil Hitler" all the time, and drank beer with underage people and smoked cigarettes and after a while he just started to realize what he'd gotten into," said Sebastian.
Leaving a neo-Nazi group isn't easy, but Sebastian's friend did eventually get out. He had to move to another part of the city and was involved in physical violence with neo-Nazis on several occasions.
Extremist tendencies
According to the Berlin-based organization The Violence Prevention Network, 15-20 percent of the general population have extremist tendencies of some kind, whether left-wing, right-wing, or Islamic fundamentalism.
Thomas Mücke, a social worker who coordinates the Violence Prevention Network's training course, said that when looking at the kinds of people who are drawn to far-right groups, a pattern emerges.
These young people often come from broken homes, with a history of dysfunction and family violence. They also tend to grow up in towns or suburbs with high unemployment, and have aggressive and violent tendencies.
Mücke and his team work with juvenile offenders who have been convicted of hate crimes. To get through to these young offenders, Mücke said he must first gain their trust.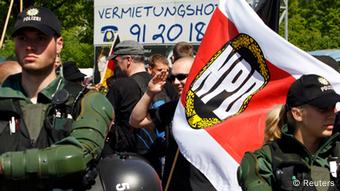 Right-wing extremists held demonstrations across Germany on May 1, 2012
"They just need people they can talk to, because they've never had that in their lives. And that's why so much hate and anger builds up," he said. "They have to get away from this victim mentality. They have to learn to talk to other people about themselves and they have to learn to accept help. If you accomplish that, you're on the right track."
But it's not just about listening. The social workers must also challenge the far-right rhetoric of hate that these young people have been indoctrinated with, and teach them about the real consequences of their aggressive actions.
"Often they portray their violent acts as heroic acts. We have to dispel that idea," explained Mücke, "So we look at their violent acts in concrete terms and explain to them that they have to take responsibility for their actions."
The Violence Prevention Network works with juvenile offenders in prison and then for one year after their release. The trainers are on-call 24/7.
This intensive, long-term process is paying off. Since 2001, the Violence Prevention Network has successfully rehabilitated 80 percent of the 500 participants in their programs. Less than 10 percent have been arrested again.
"We try to explain to them their role within the far-right scene and show them how they have been abused and instrumentalized so they learn how to make boundaries and disengage," said Mücke, adding that it "only works when you show them the strengths and abilities that they have as well, so that they can find their own way."
The individual has to be motivated to make a change, and should never be left alone in the process, emphasized the social worker.
Should the NPD be banned?
Since it was discovered in November 2011 that a neo-Nazi ring had been involved in a series of murders, there have been renewed calls to ban Germany's far-right National Democratic Party (NPD).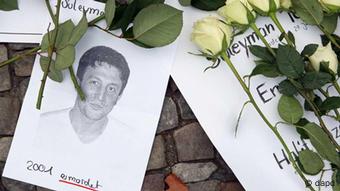 A series of right-wing murders has renewed discussions on the constitutionality of the NPD
"If you ban the NPD, they won't stop being racists," commented Sebastian. "They will go to the underground and form a structure that's pretty hard to control and to overlook."
According to Thomas Mücke there are many reasons to ban the NPD, but regardless of whether that actually happens, there will always be a far-right scene.
"Banning the NPD doesn't make sense if at the same time we don't provide prevention programs and exit programs for the young people," said Mücke.
If the NPD were banned, Mücke said the initial period when the far-right scene was destabilized must be used to help people get out.
"There were quite a few people who were unsettled by the neo-Nazi murders but they cannot get out by themselves if there is no one to help them work out how. That means we need special programs for these young people," said Mücke.
Author: Cinnamon Nippard
Editor: Kate Bowen