This week, the priest Ludger Hillebrand was back in the Köpenick district of Berlin, for one of his regular visits to Grünauer Strasse 40. This is the address of Berlin's "deportation center." But he was no longer able to speak to the 21-year-old Eritrean, who has already been sent back to Italy, even though his sister lives in Germany and had taken him in.
But European law says that familial bonds only exist for fathers, mothers, and underage children. But Hillebrand, a 51-year-old Jesuit priest, was able to see the elderly Albanian, who said that death threats had forced him to flee his homeland. Hillebrand says there is still hope for his appeal against deportation.
The Jesuit refugee service has a good success rate for its attempts to get its refugees out of Germany's prisons. In Berlin and Brandenburg, the Jesuits have offered their services to 70 asylum seekers and arranged the release of 55 of them.
End of an 'absurd practice'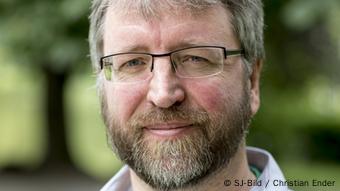 Ludger Hillebrand works with asylum seekers in Berlin
The deportation center in Köpenick is one of the last in Germany where refugees are still locked away before being taken out of the country under police escort. Since this summer, rulings from the European and German federal courts have ensured that they have emptied out quickly. First the European judges in Luxembourg ruled that asylum seekers could not be incarcerated alongside criminals.
The second ruling threw a wrench in the process that funneled asylum seekers straight into deportation centers as soon as they entered the country. According to the "Dublin Procedure," the asylum seekers have to make their applications in the first EU country they enter. But since many of them travel straight on to Germany, authorities here fear that they could go into hiding if they aren't put behind bars immediately. "It's an absurd and inhuman practice," says Hillebrand. The judges agreed.
For that reason, the Jesuits estimate that there are only 50 or 60 asylum-seeking prisoners left in the country, at five different locations. A year ago, there were about ten times that number in 20 different detention centers. Many have been closed, most recently the one in Rendsburg in Schleswig Holstein.
A hotel would be cheaper
In Berlin, there are around 30 inmates rattling around a giant complex, guarded by 50 policemen. Each one of them costs the state around 55,000 euros ($68,500) a year. With so few, it would be cheaper, says Hillebrand, to put them up in a hotel. Some German states have taken to send their few deportation inmates to Berlin.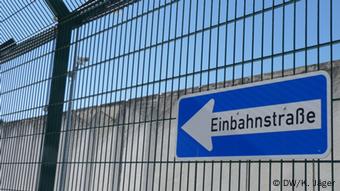 The prisons are empty of refugees - for now
They are mostly people who have refused to leave Germany, despite several orders, or who have come back. Or else they are refugees whose identity remains uncertain. Hillebrand explains the case of a Serb he looked after, who was deported for the fourth time last week, "but he'll come back a fifth time." He has a wife and three children, but his house in Serbia has no power, water, or heating. "Even the other prisoners have said they would have to collect money for him so that he can pay his heating bills in the winter."
Serbia has been categorized as a safe country of origin, which means the chances for an asylum seeker from there are close to zero. But Syrians have also landed in the deportation center, having traveled from Bulgaria, where they reported catastrophic conditions. "When they arrived here, they said, 'you might as well send us back to Syria rather than Bulgaria.' "
For some time, German courts banned the deportation of asylum seekers back to Bulgaria, as they once did Greece. For some judges, even the conditions in Italy are too inhumane.
Government considers new law
The Jesuits and the German government differ wildly on how many refugees Germany can take in. Frido Pflüger, director of the Catholic refugee organization says there are 51 million refugees worldwide, while 140,000 sought refuge in Germany last year. "That isn't too many for a country as rich as Germany is," he says, and adds that there are many young people among them: "we could use their talent."
The government has a different view. The interior ministry is currently discussing several new asylum laws, including a new Residence Act. It is meant to define when there is "serious risk of flight," so as to make sure that the asylum seekers can be put back into custody. The law is being worked out by the ministries and is due to be discussed in the cabinet in December. The criteria that have been made public so far are so broad that the deportation centers could be full again very soon. "Then we'll have the same circumstances as we had until this summer," says Hillebrand. "We'll have Syrians who can't make ends meet in Bulgaria put in jail here." He shakes his head. "It's absurd, totally absurd."