"A lack of good nourishment in the first 1,000 days translates into a lack of good opportunities for the rest of one's life," said German President Joachim Gauck at the start of German food aid organization Welthungerhilfe's action week on world hunger.
"This is not commensurate with human dignity," he continued in an address Sunday (13.10.2013) on German television, referencing the fundamental right promised in Germany's constitution. "The right to sufficient nourishment is a human right."
Germany's Welthungerhilfe NGO, or "World Hunger Aid," was founded in 1962 and hosts an annual week of events intended to encourage Germans to take action against starvation and malnutrition around the globe.
The week centers around World Food Day, held on October 16, and includes a protest march, film and art evenings, discussion panels and a number of other events around the country.
The German NGO criticizes the fact that around 842 million people worldwide continue to go hungry. Each year, 3.1 million children die of starvation - an average of one child every ten seconds. In total, seven million people die each year of hunger. Raising awareness about those dramatic figures is part of Welthungerhilfe's campaign - to encourage people to get active, for example, by collecting donations at school events, benefit concerts or in the office.
"Everyone can do something," Gauck said.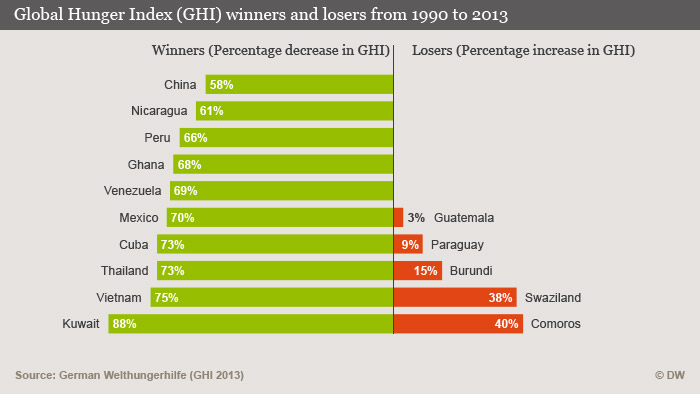 Rethinking consumption habits
Roman Herre of the human rights organization FIAN(FoodFirst Information and Action Network) tells DW he believes in Welthungerhilfe's action week concept. "What's positive is if weeks like this can expand public awareness on the issue of hunger, and lead broader segments of the population to get engaged with the scandal that is hunger."
The causes of hunger, Herre says, include systemic policy flaws on trading raw materials and an approach to imports and exports that disadvantages laborers in the global South. Even everyday consumers in Europe can also do their part to help solve the problem, he says.
"You can inform yourself about where products come from. Of course, it's also about consuming so as not to exhaust and waste so many resources."
The human rights expert believes opting to eat meat is particularly questionable. "We know that when it comes to meat, it takes seven or eight times as much feed to come out with a piece of meat in the end. That takes resources - feed imports, for example."
One positive development in recent years, Herre says, is the fact that people have taken to the streets repeatedly to demonstrate in favor of a more just distribution of the world's resources. He cites one example from January of this year in Berlin in which 25,000 people marched under the motto "Wir haben es satt" (We've had enough).
"Those are important chances to get involved and do something against hunger."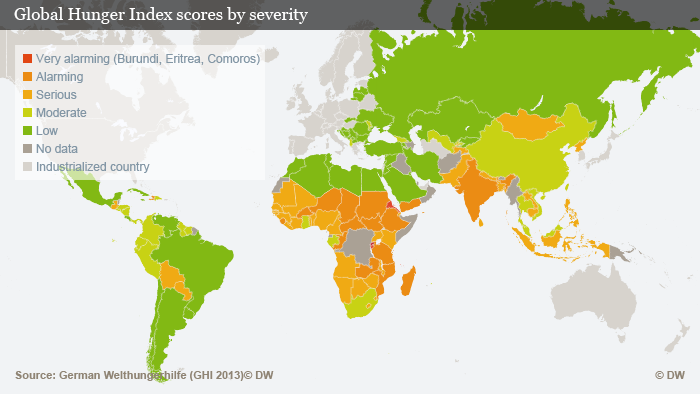 Wanted: on-site help
But demonstrations and discussions in Europe aren't enough for Kurt Gerhardt, a former radio journalist and co-founder of Bonner Aufruf, a German-based group seeking a re-evaluation of - and new approach to - development policy. He believes it's far more important to get involved at the local level.
"The fate of people is being decided in Africa, and not in our streets or squares where people come together and perhaps donate money," Gerhardt told DW.
However, Welthungerhilfe's action week does some good, he says. "It gives a bit of a push to people who aren't sure - those who haven't donated anything so far but decide, 'Oh, actually, I could join in.' For people like that, the week is the right thing."
Gerhardt and his Bonner Aufruf colleagues disapprove of a United Nations guideline which declares that 0.7 percent of wealthy countries' GDP should be given out in development aid.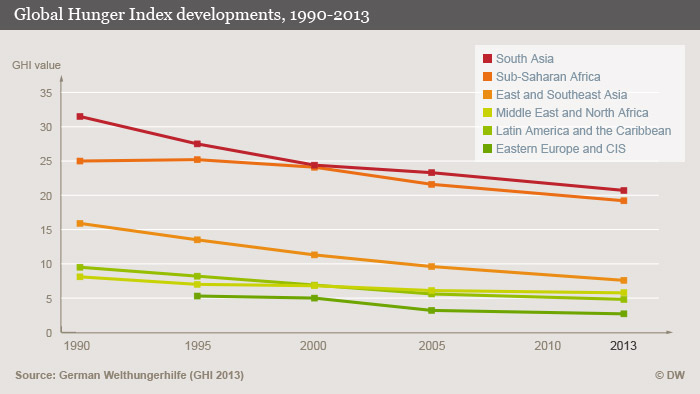 "You should be very cautious when it comes to pumping more money into Africa. The idea that more money equals more development is a very dangerous misconception," he said.
Instead, Gerhardt would like to see more work done on site in order to build a well-functioning economic system and fight corruption. He says he would like to see more initiative from a number of African countries on this point.
German President Joachim Gauck ended his televised address regarding Welthungerhilfe's call to action by urging people to get involved. The group's action week runs through October 20.