Californian auction house Profiles in History on Thursday declined to provide information on who bought R2-D2, known affectionately to film fans for its squeaking, bumbling behavior in the Star Wars movie series.
The 43-inch (1.1 meter) robot made out of aluminum and fiberglass was assembled from parts used during director George Lucas' filming of Star Wars, which began in 1977.
The R2-D2 droid was the most expensive item offered in the movie memorabilia auction in Calabasas, just north of Los Angeles on Wednesday night.
The illuminated sword or "lightsaber" used by the young central character Luke Skywalker in the first two films reached $325,000.
The Darth Vader helmet from the original film sold for $96,000.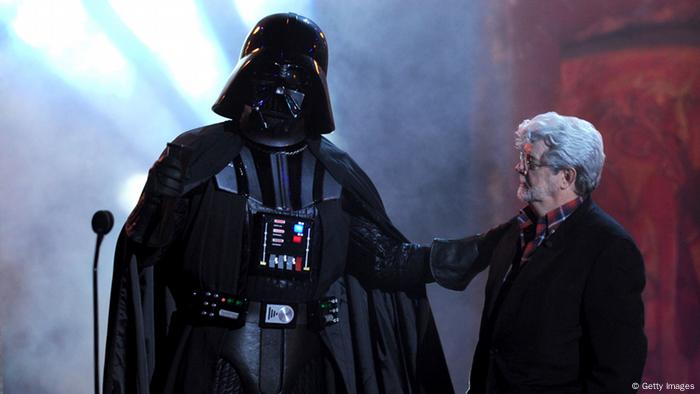 The sinister Darth Vader with Star Wars director George Lucas
Praise for designer Ralph McQuarrie
Other space-themed memorabilia sold included a collection of 23 highly detailed visual effects miniatures used to film "Battlestar Galactica" (1978) and "Buck Rogers" (1979).
Boston-based collector and radio host Gary Cannavo said that over 25 years his trek to find the "gorgeous models of my childhood" led him to many places and "amazing people" and "cost lots of money and thousands of research hours."
"I just feel it's time to let them go and hope they find a great final resting place to be enjoyed by all," he said.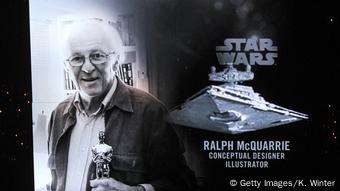 Ralph McQuarrie conceptualized Star Wars, Galactica
Cannavo praised designer Ralph McQuarrie, who died in 2012, saying he was the principal designer for Battlestar Galactica after being the legendary production illustrator for Star Wars.
"It's becoming a lost art and these are what's left, telling us about Sci-Fi movie and television history," Cannavo added.
ipj/jm (AP, dpa)