By the time police located Takao Nagai on February 21, it was too late for them to question him about the killing of his former girlfriend two days earlier. The 39-year-old was found dead in a car in a remote area of Tochigi Prefecture, north of Tokyo, after having apparently shot himself in the head with a revolver found in the vehicle.
Nagai was being sought in connection with the killing of 26-year-old Chihiro Suzuki, who had been similarly shot in the head in a car in the parking lot of a shopping mall in a neighboring prefecture. Investigators have stopped looking for any other suspects in the death of Suzuki.
In November, Nagai had been arrested and fined for assaulting Suzuki and warned after his release that he was not to approach or contact her. Police say he ignored those instructions and repeatedly attempted to contact her. Suzuki went with her father to file complaints at a local police station on 10 occasions in the weeks before her death.
Suzuki's death is just one of a spate of similar incidents across Japan that have forced authorities to tighten the laws on stalking, but appear to have had little impact on the problem to date.
Hanged at home
The day after Suzuki's death, a man was found hanged in his home in Hiroshima Prefecture after being released by police pending further inquiries. The man was a former boyfriend of Sayaka Furomitsu, a 23-year-old nurse, who was found strangled in her apartment on New Year's Eve.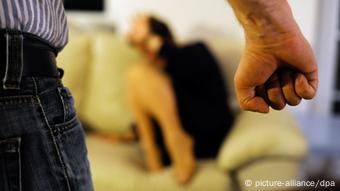 Watanabe: "Japanese men still have a sense that they have authority over women"
The following day - the same day as Nagai's body was found - police arrested university student Yasuchika Watanabe for sending his former girlfriend malicious mail messages. Watanabe, 21, told his former girlfriend that she should kill herself. The woman committed suicide in November by jumping from the top of her apartment building in Tokyo.
"Japanese men still have a sense that they have more freedom and authority over women, and that's partly a result of the traditional values that are still in place here," Makoto Watanabe, a lecture in communications and media at Hokkaido Bunkyo University, told DW. "And superficially, this looks like a peaceful society, but Japanese men still hold true to principles and values that only sometimes appear in the public sphere.
"In addition, men here struggle to find a way to treat someone who is so fundamentally different to what they are used to," he added.
Japan's initial legal measures to combat the problem of stalking were only introduced in 2000, but this was only limited to specified loitering around named individuals, making repeated or silent phone call or sending unsolicited fax messages.
Updated legal measures
The law was updated in 2012 to take into account advances in technology, with threats sent by e-mail added to that list. Police were also given the power to issue perpetrators with a warning or ban them from certain areas where their victims live or work.
According to Japanese authorities, reported cases of stalking have soared since the law was first introduced, although experts say that may be simply a reflection of more cases being reported to police.
In 2000, 2,280 incidents were reported to the authorities. The following year that number soared to 14,662 - a figure that is linked to increased awareness of the new law. The figure was stable at 14,618 incidents in 2011, but that leapt again in 2012 to 19,920 cases.
Foreign women have also been the target of attacks, the most infamous of which was the murder of Lindsay Hawker, a 22-year-old British teacher who was badgered by Tatsuya Ichihashi into giving him English lessons in 2007.
Ichihashi had chased Hawker along a street in suburban Tokyo until she agreed to his request. At the end of his trial in 2011, after more than two-and-a-half years on the run, 32-year-old Ichihashi was found guilty of raping and murdering Hawker and sentenced to life in prison.
Women targets of violence
Other women report similar experiences. After two incidents in the five years she has lived in Japan, an American professor at an international college - who only wants to be identified by her first name, Holly - set up an online forum for women who have been attacked.
The first time was around 10 in the morning in Osaka when a man picked her up and tried to carry her into a short-stay "love hotel." Kicking and fighting, Holly called out to a police officer - at which point her assailant dropped her, bought a bottle of water from a vending machine, gave it to her, said "sorry" and walked off.
In her latest brush with aggression, a man seized her when she was riding her bicycle and accused her of stealing it. Holly is sure that worse would have followed if she had not been able to escape after an altercation that lasted several minutes and was ignored by dozens of passers-by.
The response at the police station was a shrug and "It can't be helped. Maybe you should not be out alone at night." "It's as if we are easy targets," she said.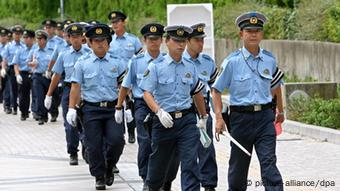 Japanese police has been criticized for failing to protect women who seek their advice
Even with the new laws, there has been fierce criticism of the police - from the media and the public - for failing to protect women who seek their advice, such as the case of schoolgirl Saaya Suzuki, who was knifed to death in her home in October of last year.
Before the attack, Suzuki had reported Charles Ikenaga to her local police station after their relationship had broken down. When she blocked his phone calls and mail messages he began to threaten her.
After her death, it also emerged that that a police officer had dismissed Suzuki and a teacher just days before the attack because they were not able to act on non-urgent cases on weekends and he failed to inform a senior officer.
"Even though police had received complaints from the victim, they failed to offer her sufficient protection," the Mainichi newspaper said in an editorial. "The interview with law-enforcement sources and school officials suggests that the police did not act with sufficient urgency, even though stalking cases can often escalate into serious crimes."