Americans Spieth and Reed (pictured above, left) were set to begin the US Open's penultimate round on Saturday, each on 135, five under par, after two rounds.
Their pairing brought back memories of their Ryder Cup success in Scotland last September.
Third-placed at Chambers Bay after Friday's round was the previous overnight leader American Dustin Johnson on 136 overall together with Grace.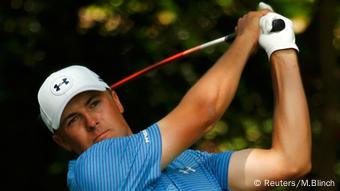 Spieth won the Masters in Augusta in April
Spieth, already Masters champion at only 21 and world number two, was aiming by Sunday's closing fourth round to become the first man to win the Masters and US Open in a single year since Tiger Woods in 2002.
Field pared down to 75
Saturday's field started with 75 players who held 145 strokes or less after two rounds. Still present was world number one Rory McIlroy of Northern Ireland, Britain on 144.
The US Open's 2013 champion Justin Rose of England began Saturday just above the middle of the field on 142.
US veteran and crowd favorite Phil Mickelson began Saturday on a mid-field 142, saying he hoped to catch up on the leaders.
"It was a tough day," he said of Friday's round. "I just couldn't get the ball in the hole."
Still in the running was Jason Day of Australia, who collapsed with vertigo, but recovered sufficiently to finish Friday's play on a promising two-round 138.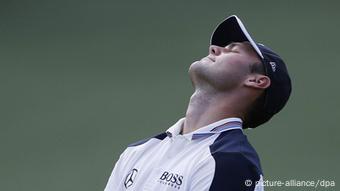 Martin Kaymer finished plus 6 overall
Kaymer and Woods miss out
Defending US Open champion Martin Kaymer of Germany missed Saturday's field after failing to recover fully from a double bogey at Friday's 10th hole to finish on plus 6 overall.
Also absent was Woods, who crashed out on Friday, 16 over par after his two rounds.
Frustrations on Friday
Reed ended Friday expressing frustration over his inconsistencies. They included several bogeys offset by several birdies that still elevated him to a front-running 135.
"I need to clean that up," he said. "If I didn't do that, I would have a four or five-shot lead, said the 24-year-old Texan whose biggest title so far was last year's WGC-Cadillac Championship at Doral.
Reed said he enjoyed playing alongside Spieth.
"It's going to be fun," he said, referring the weekend's two deciding rounds.
Spieth started Friday's back nine with four birdies, but a poor drive on the closing 18th, and a fairway bunker lip shot, cost him strokes, so that he also finished on 135 overall on Friday.
At 7,695 feet (2,345 meters) in total length, the Chambers Bay course near University Place in Washington State, south of Seattle, is the longest configured by organizers in major championship history.
ipj/sms (dpa, Reuters, AP)