With his family teary-eyed and full of smiles behind the 18th green of the Augusta National Golf Club on Sunday, thronged by thousands of cheering patrons and watched from afar by millions of other golf enthusiasts in more than 220 countries, Jordan Spieth took a walk up a fairway he will not soon forget.
He was 19 strokes under par on the last hole of the Masters - widely regarded as golf's most hallowed ground - and never before in the tournament's history had a player reached this mark. All that stood between Spieth and breaking Tiger Woods' all-time scoring record of 18-under 270, a feat regarded until this week as frankly unattainable, was a four-foot par putt. He missed to the right, in uncharacteristic fashion, but nobody - least of all Spieth - seemed to care at all about that.
"This has been the greatest week of my life," said the 21-year-old afterwards, just before being presented the coveted Green Jacket. After Woods, who was just a few months younger when he won that record-breaking Masters in 1997, Spieth is the youngest champion in Augusta history.
"This is as great as it gets in our sport," he replied, almost numb, when asked by CBS commentator Jim Nantz about what the historic victory meant to him. "To be honest, I'm still kind of in shock right now."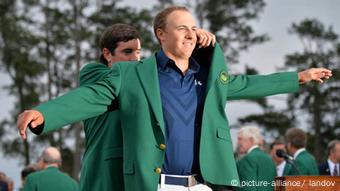 Spieth: "This has been the greatest week of my life"
Spieth spot on
For four straight days, Spieth had the golfing world in a kind of shock, after opening up with an eight-under-par 64 that gave him a three-stroke lead after round one. He increased the margin to five strokes after a 66 on Friday, setting a record for the 36-hole mark. He led by four after three rounds, at 16-under, likewise a record, and ended up winning by four strokes over Phil Mickelson and Justin Rose.
"I felt like I played really solid, but this week it would have taken something truly exceptional," Mickelson, a perennial crowd favorite and owner of three Green Jackets, said of Spieth after finishing his round on Sunday.
"It's not just his talent on the course, though," Mickelson added. "Jordan truly is a great guy, a really well-grounded person, with maturity well beyond his years."
World #1 final-round bout
With Sunday's victory, Spieth will jump to number two on the World Golf Rankings, one spot behind Rory McIlroy, who came in fourth behind Rose and Mickelson this week.
"He just kept his foot down," said McIlroy, after finishing with a six-under-par 66, tying Sunday's best round. "Nobody was going to touch him this week, and I know, as someone who has been able to enjoy a sizeable lead on Sunday, what that feels like."
McIlroy played alongside another person who knows what it feels like to dominate a golf tournament, Tiger Woods, bettering the former undisputed world-number-one by seven shots. With a one-over-par 73 on Sunday, Woods fell to a tie for 17th, but that was still his best finish in any tournament in over a year-and-a-half.
"I'm proud of how I played and hung in there, just wish I could have made a few more putts and moved up the board," said Woods, who has battled multiple injuries over the past few years. In the middle of his round on Sunday, there were fears that a new injury would be added to that list after he inadvertently struck a tree root during a swing on the ninth hole. Woods said a bone in his right wrist had to be popped back into place, but said afterwards that it "wasn't serious."
'A new generation has arrived'
When asked about the significance of this year's historic Masters performance, Woods focused his response on the solidity of Spieth's play. "He was in the driver's seat. It was his tournament to win or lose, and he just stayed steady Eddie the whole way through. Impressive."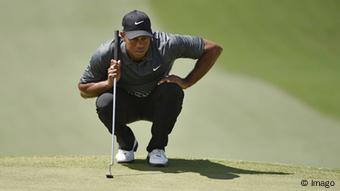 It's been seven years since Woods' last major victory
Praise can't come from any higher. Although it's been seven years since his last major victory - his last win at Augusta was 10 years ago - Woods, the creator of the modern game, continues to enjoy unparalleled influence and recognition from players and commentators alike.
Spieth's victory, however, is incontrovertible proof of the high and rising quality of the stars of tomorrow.
Just after Sunday's Green Jacket ceremony, with Spieth finally draped in golf's most cherished prize, CBS decided it conclude its coverage with none other than Jim Nantz delivering one of the dictums for which he's become famous over the years. In 1997, speaking of Tiger Woods, he called it no less than "a win for the ages."
In 2015, Nantz' words struck a different tone: "A new star has been born. A new generation has arrived."