Henrik Stenson of Sweden (pictured above) and Dustin Johnson of the United States share the lead after the first day of action at the US Open at Chambers Bay. Both players managed a 5-under-par 65 after the first round of the championship.
Last year's fourth-place finisher, Johnson completed his first nine holes at 2-under 33. He steadily continued to rack up four more birdies on the back nine, holding the lead throughout. At the end of a nearly flawless round, a lone bogey on his final hole brought his round to 65.
"I just made a bad swing on nine," he told reporters after the round. "It's probably the only bad swing I made all day, so I'm happy with it."
Stenson, in contrast, made his charge late. The Swede stayed at around 1-under until the 14th hole, when he then played three birdies, a par, and ended the 18th hole with a successful 25-foot birdie putt to close off his round.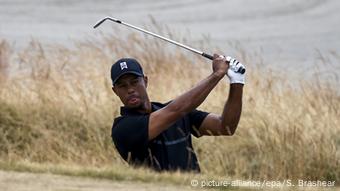 Tiger Woods landed in plenty of bunkers on day one at the challenging Chambers Bay course
Stars struggle
At the other end of the 156-man field, former number one Tiger Woods had a day to forget at the Chambers Bay course. Managing only one birdie on the 16th hole, Woods bogeyed seven times, including on the first hole. On the eighth hole, Woods even accidentally flung his golf club into the air behind him after completing his swing.
Woods finished at a 4-over 39 on the front nine. After a triple-bogey on hole 14 and birdie on hole 16, Woods bogeyed on the final hole to end with 80, 10-over-par. It equaled the worst round of his career at a major tournament.
"I fought," he said. "That was my number today. I couldn't have gone lower than that."
The American will now have to play an exceptional round on Friday to make the cut and stay in the tournament. Woods, who won the US Open in 2000, 2002 and 2008, was unable to compete in last year's open due to a back injury and says he is now working with a completely new swing.
Meanwhile, defending US Open champion Martin Kaymer finished with a middle of the field 2-over 72. The German's playing partner, world number one Rory McIlroy, also ended at plus-2 after hitting only 12 greens in regulation and missing several putts.
al/asz (AFP, dpa)