The city of Cologne is a true melting pot, with one of the largest Muslim populations in Germany. In the Ehrenfeld city district, Muslim women who want to be physically fit can follow the lead of female personal trainers at the "Hayat" (which means "life" in Turkish) gym and still keep their clothes on.
Whether it's running on the treadmill, rowing on a machine, or doing aerobics to Turkish pop music, trainers Emine and Yasmin do their best to help modestly dressed Muslim women get in shape.
The fitness crowd does not just have access to a full range of gym machines and exercise bikes, they can also take a break in the prayer room.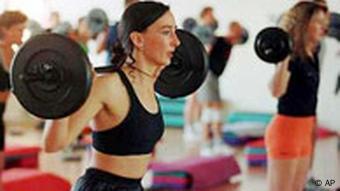 Pumping iron doesn't always have to mean showing a lot of skin
But, you won't find these women wearing short shorts, flashing skin or working out for the sake of being seen. Many even don headscarves while they work the machines.
Customers from different countries
Emine Aydemir, the 39-year-old owner of the fitness club now celebrating its first anniversary, knows why her business has been a success.
"Many women who wear scarves come here because so many other gyms treat them badly," she told DPA news service. "At Hayat, they feel at home and nobody stares at them because of what they're wearing."
She said she has around 350 customers; 90 percent are Turkish, or Turkish-German, the rest are from Morocco, Tunisia, Romania and Egypt. The average age is 30, and some non-Muslim German women are also members, since being Muslim is not a requirement.
"We Muslim women don't envy one another's bodies," Aydemir told DPA. "We don't stare at each another and compare our figures. We accept each other as we are," she said.
Muslimas on the move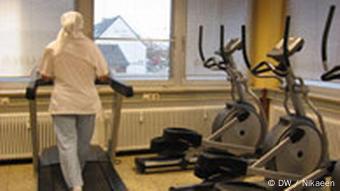 The Hayat fitness club in Cologne
DSSV, an organization representing fitness and spa-industry employers throughout Germany, said only one other gym -- in the northern city of Hamburg -- caters specially to Muslimas.
DSSV's Refit Kamberovic said it was an opportunity for investors in other urban areas in Germany to develop the market niche.
Aydemir also said she believes others are gearing up to imitate her idea.
"I've fielded a lot of phone calls from people who ask exactly how they should go about setting up a gym like this," she said. "I tell them the recipe for success is to ban the cult of beautiful bodies and to emphasize health, enjoyment and sharing."
Even so, being among other Muslims is what attracts many women to "Hayat."
Hatice Aydin, a 27-year-old who works out every day, told DPA: "Before I came here, I used to go to another women-only gym, but I was the only one there wearing a headscarf. They were always giving me funny looks.
"I had to go into the toilet cubicles to get undressed and dressed," she said. "A lot of German women don't know our etiquette and they were always staring at me if I got dressed in the group changing rooms."
Respecting modesty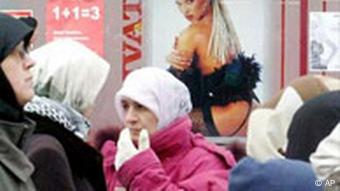 "The recipe for success is to ban the cult of beautiful bodies and emphasize health"
Aydemir explained that she was taught that Islam forbids exposing any part of the body between the bosom and knees, even to other women.
So, changing rooms and showers at Hayat are divided into cubicles to respect this rule of modesty, and women who want to use the saunas wrap up in towels.

Even busy mothers can get their work-out. They can drop off their kids at a playroom in the gym.
Husbands are not permitted inside, nor are mailmen or repairmen.
Gulay, 29, who has worked hard to train her abs, told DPA that she wouldn't want to get in shape anywhere else.
"I certainly would never work out in a gym with men in the same room," she said. "If there were men here, I'd find that very upsetting. It would not be my kind of space at all."