Seventy percent of adults in Germany said they were religious, while 18 percent of these are "deeply religious," reported the Bertelsmann Foundation in a study to be published on Tuesday, Dec. 18.
Those who characterized themselves as "deeply religious" said they regularly attend worship services, pray often and have deep religious convictions. Another 29 percent of Germans identified themselves as not religious.
"We can definitely not confirm the long-term extinction of religion that comes up again and again," said the leader of the study, Martin Rieger. "The fact is that there is great stability of religious consciousness among a wide spectrum of social groups, which is very diverse."
The study suggests that young people between 18 and 29 years of age in Germany have stronger religious convictions than their parents, though they don't necessarily act on them.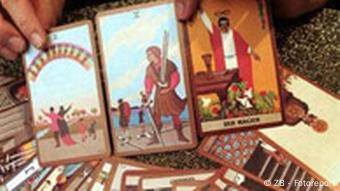 Catholics showed relatively strong interest in astrology
Forty-one percent of those surveyed from the 18-29 age bracket said they believe in God and life after death, more than in any other age group. Just over half of the young people said they are religious (14 percent highly religious), though 50 percent said they seldom or never pray.
Spirituality strays from tradition forms
Every fifth person surveyed in Germany said that faith should be assembled from various religious teachings according to one's personal opinion. Furthermore, 11 percent of Catholics also reported a belief in astrology, while the number was significantly lower -- 6 percent -- among non-church members.
The stereotype of the elderly being especially religious seems to be only partially true. One third of those over 60 said they didn't believe in life after death while 18 percent regularly attend a religious service.
More than twice as many of the self-professing "deeply religious" Germans belonged to the Catholic Church as those who belong to the Protestant Church. Germany recognizes both the Catholic and a Protestant churches and imposes a tax on its members, which is paid back to the churches.
Approximately two thirds of the country officially belong to one of the two state churches, though membership doesn't necessarily have an impact on personal religious convictions or church attendance, according to the study. One sixth of church members reported being "not religious."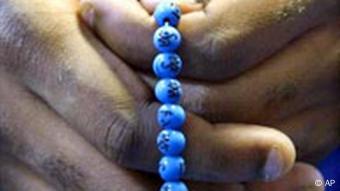 Islam is the third largest religious group in Germany
Approximately 4 percent of people in Germany are Muslim -- the third largest religious group next to Catholicism and Protestantism -- while 0.3 percent are Buddhist and 0.2 percent Jewish.
Former GDR less spiritual than west
A divide was apparent in the study between eastern and western Germany. While 78 percent of western Germans identified themselves as religious, 21 percent of these as highly religious, the numbers were 36 percent and 8 percent, respectively, in eastern Germany. As in most communist countries, the government took an antagonistic view of religion in the former East Germany.
Differences between the genders were also revealed by the study, with 20 percent of women and 16 percent of men reporting deep religiosity. Contrarily, 23 percent of women and 34 percent of men said they were not religious.
The Bertelsmann Foundation posed nearly 100 questions pertaining to religion to 21,000 adults in 21 countries.
Nigeria, Brazil, India and Morocco reported with over 90 percent the highest rates of religiosity. In Europe, Germany ranks behind Italy and Poland, but ahead of Great Britain and France in terms of the number of practicing believers.
In the United States, 89 percent of those surveyed characterized themselves as religious, 62 percent as deeply religious.
Religious conviction isn't necessarily tied to church membership, according to the report
Catholics showed relatively strong interest in astrology
Islam is the third largest religious group in Germany