Speaking about Spain's biggest political crisis for 40 years, its foreign minister admitted his government may have been somewhat naive: "We didn't think that these people would go so far as to provoke the situation of division and fragmentation that they have provoked in Catalonia."
On 27 October, the regional parliament in Barcelona declared independence from Madrid. Parliament voted to transfer legal power from Spain, a constitutional monarchy, to Catalonia. No country in the world has since expressed support for independence for Catalonia, with European Council President Donald Tusk saying Madrid will remain his "only interlocutor."
Barcelona and Madrid have been in a month-long standoff since 93 percent of voters opted for Catalan independence in the October 1 referendum. Ahead of the poll, Spanish courts declared it illegal and the government threatened to suspend the region's autonomy. After the vote, the government in Madrid dissolved the region's parliament, imposed direct rule and called a snap regional election on 21 December.
Did the Spanish police use 'excessive force'?
At the weekend, Prime Minister Mariano Rajoy called the independence move "separatist havoc" which he vowed would end after the new regional elections. Human Rights Watch has partly blamed Spanish security forces for the conflict, saying "Spanish police engaged in excessive force when confronting demonstrators in Catalonia during a disputed referendum, using batons to hit non-threatening protesters and causing multiple injuries."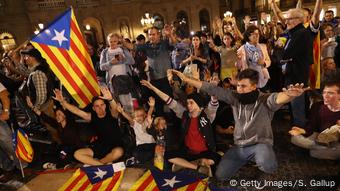 People with Catalan independence flags gather in front of the Palau de la Generalitat de Catalunya, the building that houses the Catalonian presidency.
Responding to the allegations on DW, foreign minister Alfonso Dastis denied that the security forces used excessive force: "There may have been cases of force but that was not excessive force and that was not a deliberate force, it was a reaction to provocation from people who prevented them from discharging the mandate that they had received by the courts."
Does Catalonia have a right to self-determination?
Spain's Senate used new emergency powers and voted to invoke Article 155 of the institution and take control of Catalonia immediately after it declared independence. Rajoy said these measures were to protect the 7.5 million Catalans and ultimately the only way out of the crisis. However, this marks the first time since the fall of dictator Francisco Franco in 1975 that the central government has taken direct control of one of Spain's 17 semi-autonomous regions.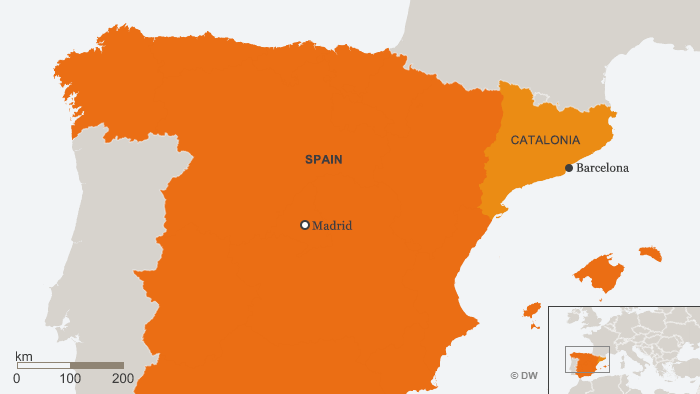 Dastis also relativized the right to self-determination which the UN says is a right of peoples and not a prerogative of states to grant or deny: "The so-called right of self-determination of people does not exist in the context of states who behave without discriminating people from ... on account of their beliefs, of the religion, or of the color."
He added: "We do respect them, but there are rights that do not exist however much you claim they exist," but also assured his administration will safeguard the rights of those who "live in Catalonia to remain Catalan, Spanish, and European."
'Puigdemont didn't take note of the needs of Catalans'
When it invoked Article 155, Madrid also sacked Catalan President Carles Puigdemont and his entire cabinet. Catalonia's police force was taken over by the Spanish Ministry of Interior and the regional parliament was dissolved. Puigdemont and four of his cabinet ministers went into a self-imposed exile in Brussels for what he called safety reasons. Spain since issued an international arrest warrant against him.
Dastis said Puigdemont "simply thinks that he's right and everyone else … is wrong and I honestly think that the truth is the opposite." Dastis said his government gave him every opportunity "to step back from the brink" and said Puigdemont "didn't take any notice of the needs of the Catalan people."
Pedre Sanz, who is the Senate Vice President, has said that if the December elections produce another government that behaves illegally, Article 155 will be invoked again. In other words, Catalonia would lose its autonomy again.
Asked whether this was a threat, Dastis responded: "I don't think there is a threat. I mean we have shown that we want democracy to prevail in Catalonia and let Catalan people vote and that we will see what happens. And those who can prevent any such situation … are those who are disregarding and violating first the Catalan law and then the constitutional law."
What do you think: is there a way out of the Spanish-Catalonian crisis without further destabilizing the region and the EU?