Spain's autonomous region of Catalonia was told on Friday it would lose access to some public funds if it was found to be using taxpayer money to organize a second referendum on independence.
The secession vote in the wealthy northeastern region is due to be held on October 1, despite the central government in Spain's capital, Madrid, declaring it unconstitutional.
"Not one euro of Catalan money will go to an illegal referendum that is desired by a handful of people," Spanish government spokesman Inigo Mendez de Vigo warned after the government's weekly cabinet meeting.
Line of credit threatened
He said Madrid has the means to cut off Catalonia's access to a credit line known as the Autonomous Liquidity Fund that provides additional public funds to regional governments.
Catalonia has tapped some 67 billion euros ($78 billion) from the scheme since it was set up in 2012, and 3.6 billion euros this year.
Read more: Catalonia promises 'immediate' independence from Spain post-referendum
The fund was devised to help Spanish regions struggling to raise funds on the international debt markets in the wake of the 2007/8 financial crisis.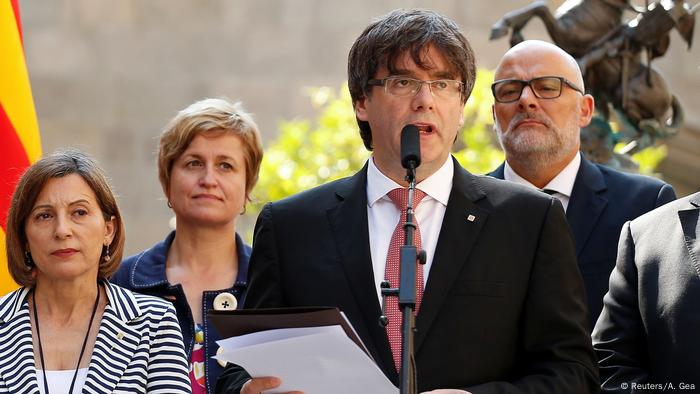 New Catalan President Carles Puigdemont has vowed to hold a new referendum in October
Madrid said on Friday it would tighten oversight of public spending by Catalan authorities by requiring them to provide weekly accounts to prove adherence to the new requirement.
In response, the Catalan government accused the central government of seeking to "put at risk social services to stop us going to the polls." It said Madrid was "putting Spain's unity ahead of the democratic wishes of the people."
Catalonia, a wealthy region of 7.5 million inhabitants with its own language and customs, has long demanded greater autonomy.
Subsidy fatigue
Many residents resent sending tax money to Madrid, much of which is then redistributed to the 16 other autonomous regions to prop up poorer areas. Frustration has led tomass protests in support of independence.
The campaign also been fueled by Spain's economic downturn, and parties that support independence won a majority of seats in the regional parliament for the first time in 2015 local elections.
Read more: Weber says EU wouldn't accept Catalan independence
But less than three months before the vote, support for secession from Spain is waning.
A poll published on Friday by the Catalan regional government's Center for Opinion Polls suggested that 49.4 percent of Catalans are against independence, up one percentage point from a March poll, while 41.4 percent want to break away, down three percentage points.
mm/jm (AFP, AP, Reuters)