Spain is to receive six more political dissidents from communist Cuba after a similar release of 20 last month, the Catholic Archdiocese of Havana said Friday.
The move is the result of an agreement between the communist government and the Roman Catholic Church. Officials said the six would be transferred directly from prison to a plane where they would be united with their families and flown to Spain.
In May this year, Cuban President Raul Castro held an unprecedented meeting with Catholic Cardinal Jaime Ortega. Following that meeting, Castro agreed in June to free 52 of 75 dissidents who were imprisoned in a 2003 crackdown on government opponents. The rest of the group had already been paroled when Castro decided on the release.
The release of the prisoners has been welcomed by the international community.
Cuba says release a "sovereign decision"
Church officials have emphasized that going into exile was only an option, not a condition for the prisoners' release.
Spanish Foreign Minister Miguel Angel Moratinos met both Castro and Ortega in June, and has said Cuba plans to eventually release all political prisoners.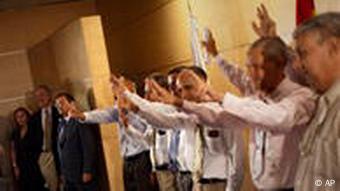 The six released are part of a larger group of 52
But Castro said in a speech to parliament earlier this month that the release of these prisoners was a sovereign decision, and that they were "counterrevolutionary prisoners," "traitors," and "mercenaries" working for the United States.
"None of these citizens were imprisoned for their ideas as depicted by the brutal campaigns to discredit Cuba," Castro said.
The six comprise three journalists, a medical doctor, a poet and a man who briefly went on hunger strike.
According to the banned but tolerated Cuban Commission on Human Rights, the number of Cuba's political prisoners before the most recent releases had dropped by about 50 percent since Raul Castro replaced his ailing brother Fidel Castro in 2008.
Author: Andrew Bowen (AFP/AP/Reuters)
Editor: Sonia Phalnikar