Seven political prisoners from Cuba, the first of 52 dissidents due to be released by the Cuban government after talks mediated by Spain and the Catholic Church, arrived in Madrid on Tuesday.
In a joint statement the dissidents said that their release marks "the start of a new stage for the future of Cuba."
Spain is expected to take in up to 20 of the dissidents in what is the largest release of prisoners from Cuba in a decade. It follows a meeting on May 19 between Cuban President Raul Castro and Cuban Catholic Cardinal Jaime Ortega. Spanish Foreign Minister Miguel Angel Moratinos helped broker the release in Havana last week
Less hard-line approach
Those being released belong to the so-called Group of 75 opposition supporters who were arrested in 2003 and sentenced to prison for up to 28 years, in what became known as the Black Spring.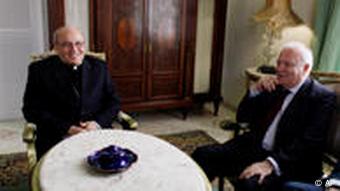 Spain's Moratinos and Cuban Cardinal Ortega helped broker the release
Cuba came under fire in February when dissident Orlando Zapata Tamayo died after an 85-day hunger strike for better prison conditions.
Some observers believe the deal marks a shift in policy in Cuba, a country with a struggling economy and tattered international reputation.
But critics say the conclusion is a little hasty. "There are no signs yet that releasing these prisoners means a badly needed economic reform program will get underway," Guenther Maihold, Latin America expert at the German Institute for International and Security Affairs, told Deutsche Welle.
"I believe it's simply damage limitation, Cuba doesn't want to be caught on the wrong foot again, for example for how it dealt with prisoners on hunger strikes," said Maihold.
If, as planned, all 52 prisoners are released, the number of jailed dissidents in Cuba is still expected to remain above 100.
Author: Nicole Goebel (AFP/dpa/Reuters/AP)
Editor: Martin Kuebler