According to the expert panel report presented to the UN Security Council, South Sudan's army and Riek Machar's rebel faction are actively expanding their stockpiles of arms and ammunition. The report says that "credible, independent" sources have said that both parties were failing to implement a permanent ceasefire and maintain security measures meant to help set up a transitional government. It also notes that President Salva Kiir had tried to undermine the power-sharing deal, by raising the number of states in South Sudan from 10 to 28 and saying that he would appoint state governors himself.
In August 2015, the two warring factions had agreed to reunite their security forces. The force is supposed to remain in place during the transitional period. After talks between the two groups in the Ethiopian capital Addis Ababa on Wednesday (05.11.2015), Taban Ndeng, the chief negotiator of the rebel faction, denied that the groups were rearming. "A few days ago we have signed a very important document outlining the activities that we are going to carry out," he told DW. He said that continued fighting was not part of their plan and that both sides were looking forward to forming a transitional government later this month.
South Sudan's information minister Michael Makuei also maintained that the two sides have cast aside their differences. "We have not been able to move forward all this time, because without proper security arrangements on the ground, we would not be in a position to talk about implementation of any other provisions in the agreement."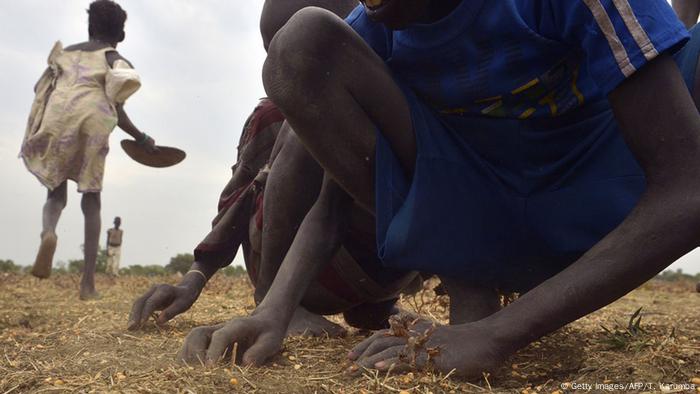 The UN report also said 3.9 million people are facing severe food insecurity
UN not ready to impose arms embargo
On Wednesday (05.11.2015), UN Security Council President Matthew Rycroft told reporters that council members had different opinions on how to address the situation in South Sudan. He said that the council was pleased that the two sides had signed the peace agreement, but he also expressed deep concern over continued fighting in Unity and Upper Nile states. The expert report accused government forces of shooting fleeing civilians, burning houses and abducting women and children. It also reported more than 50 rapes in October alone.
In July 2015, the Security Council had blacklisted six generals from both parties, some of whom had dealt a travel ban and asset freezes imposed on them. The Security Council has, however, not yet imposed its threatened arms embargo on the country. Russia's deputy UN ambassador Petr Iliichev said that he didn't believe an arms embargo could necessarily help the peace process. "What we need is more patience and engagement, not trying to punish them," he said.
While the leaders of the different factions are planning to move from the negotiation table in Addis Ababa to the next phase of implementing the peace deal in South Sudan, there are continued reports of fighting in various parts of the country. The armed conflict began in December 2013 following a split between President Kiir and his deputy Machar. In the last two years, over 10,000 people have been killed and thousands more displaced.