"Delkhiin Khunsnii Khotolbor" might be Mongolian, but in the Bentiu refugee camp in southern Sudan, even toddlers understand the name. It translates as "World Food Program." In the lives of the camp children, there are two things that go without saying: Food comes from the UN World Food Program and security is provided by Mongolia. This is because, in addition to Ghanaian soldiers, the camp is mainly protected by the Mongolian UN blue helmets. They are known as friendly men and women who distribute small gifts and teach the inquisitive children a few phrases of their language.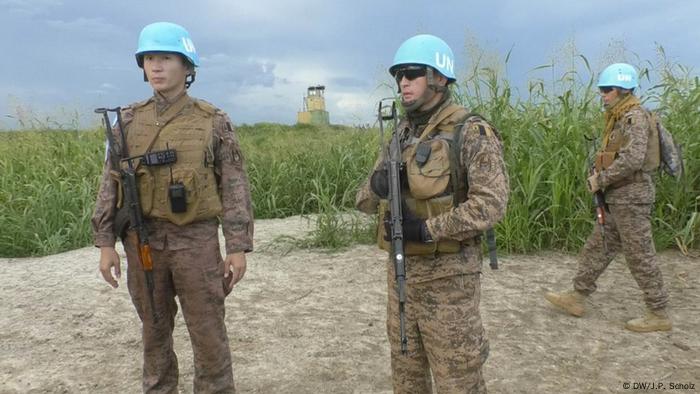 The Mongolian 'blue helmets' guard the Bentiu refugee camp
Since 2014, the camp has been a small, protected world in the midst of the war. Shortly after the outbreak of fighting, the United Nations set up a camp to protect civilians. Nearly 200,000 people are now receiving long-term care here. Over the years, the armed conflict has developed into a famine crisis that has taken control of almost the entire country. Six million South Sudanese currently depend on food aid, which is half of all inhabitants of the country.
Read more: South Sudan: President Kiir seeks better working relationship with UN troops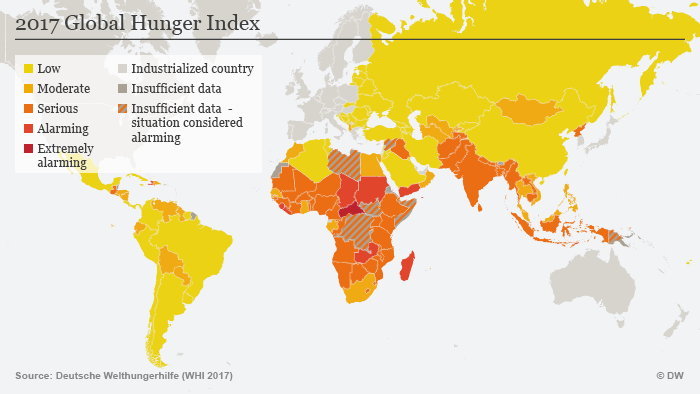 Armed groups plunder fields
The routines at Bentiu camp's warehouse are now almost perfectly coordinated. Every month, thousands of hungry people line up in rows for food to be distributed. They are exclusively women —queuing for food is not a man's job in South Sudanese culture. Despite there being so many people, there is no pushing or shoving. The trust placed in the international helpers is very high, especially among the children.
Hannah Nyarure waits patiently with all the other women. The mother of four has tried several times to get by without UN aid. A few months ago, despite the terrible battles, she left the camp and moved back to her home village with her children. "At home, I can at least try to grow my own crops and vegetables," she explains.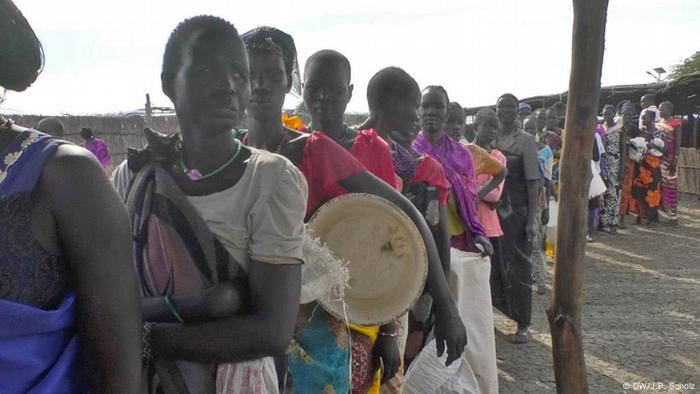 Women form a long queue at the Bentiu refugee camp when food is distributed
But she still has to make the five-hour walk to the camp every month to receive the food handouts. The last rainy seasons were unusually short, which has made it difficult to grow food. But for local people, the ongoing fighting has been far worse than the lack of rain. Even if something grows in their fields, sooner or later starving government soldiers, rebels or marauding gangs come and take what they need by force.
Aimless rebels
For Hannah Nyarure, looting and violence have long been part of her daily life. "Even when I carry my food rations back to my village, I have to pass some very dangerous places," she explains. "The fighters usually let me keep a little food."
She hasn't seen her husband for months. He joined one of the armed groups, the so-called "IO2" or "In Opposition 2". The situation is so confusing, the militia's alliances and goals so diffuse, that some of them no longer have names, but simply numbers. What began in 2013 as a power struggle between President Salva Kiir and his former vice-president Rieck Machar has long since become a tangled struggle between numerous ethnic groups and clans.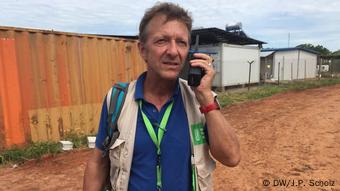 Thomas Hoerz from the German NGO 'Welthungerhilfe'
Thomas Hoerz is very familiar with the dangers for women like Hannah. As an employee of the German aid agency, Welthungerhilfe, he is the coordinator of the food distribution in Bentiu. This organization is responsible for food distribution in the camp on behalf of the UN World Food Program. Herz believes it would be better to set up more distribution centers in the region. Then women who are not living in the camp would not have to travel so far. But it is also a matter of personal safety. "The smaller and more remote the settlement, the harder it is to ensure the security of our people," he says.
Read more: South Sudan President Salva Kiir downplays refugee crisis
Aid workers in danger
Despite the risks, Hoerz and his colleagues have already opened several distribution stations in smaller towns in the area. There is one station, about half an hour's drive from the camp, called Dingding. The village leader here is particularly helpful — and he has managed to keep the conflict as far as possible out of his village. "It's simple. When we have food, we share it with the fighters. If we don't have anything, they leave us alone," he explains.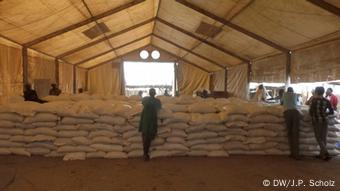 The warehouse where food aid is stored at the Bentiu reguee camp
But even in Dingding, the situation can suddenly change. While Hoerz is talking to the village chief, at least a dozen government soldiers have gathered in front of the village. They are getting drunk before they take on a planned offensive against nearby rebel posts, and the atmosphere is tense. Suddenly one of the drunks calls out to his comrades that "the Germans are the worst criminals in Southern Sudan". It's time to quickly end the visit. Thomas Hoerz later explains that situations such as these mean that armed UN protection is required during food distribution. At least 79 humanitarian workers have died since the beginning of the civil war in southern Sudan.
Starving soldiers
According to South Sudanese journalist, Parach Mach, many of the crimes committed by armed groups are to do with the fact that even government soldiers are often starving. He has been reporting intensively on the conflict since it began. Nevertheless, this does not explain the rapes and killings that have been committed by all sides.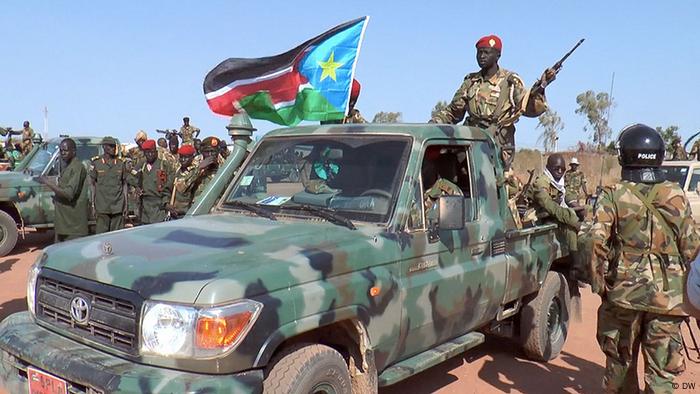 Government soldiers in Bentiu, South Sudan
"I think that the many years of conflict have caused our social cohesion to completely break down. Innocent civilian or armed fighter — many people no longer even make a distinction," says Mach. And nothing will ever change unless the perpetrators are severely punished. "Only then will their comrades finally learn something."
But aid worker Thomas Hoerz, refuses to give up his belief in the goodness of humankind. Apart from punishment, people also need future prospects. "We're completely failing to provide vocational training and educational opportunities to people in the camps."
Yet even Hoerz is not naive enough to believe that this is a simple solution to breaking the vicious cycle of violence and hunger. There are far too many young men have experienced feelings of self-worth behind the trigger of a gun." And (when things are difficult) that's something they will long keep in mind as an alternative."