The South Sudanese government has blocked access to the websites of Dutch-backed Radio Tamazuj, as well as the popular news blogs Nyamilepedia and Paanluel Wel. Internet users said that the website of the Paris-based Sudan Tribune was also affected on some mobile phone and Wi-Fi networks.
Radio Tamazuj and the Sudan Tribune are reputable sites which have been critical in their coverage of South Sudan's government, which has grown increasingly hostile towards the media since civil war broke out in 2013.
The government is justified in blocking the websites to protect citizens from outlets that "disseminate subversive material," South Sudan's Minister of Authorities Michael Makuei Lueth told the US-based Committee to Protect Journalists (CPJ).
The bans would not be lifted until "those institutions behave well," he told CPJ.
"Censoring news and intimidating journalists is becoming increasingly common in South Sudan," said CPJ Deputy Executive Director Robert Mahoney. "The government should immediately unblock all news sites and blogs."
Radio Tamazuj said its shortwave broadcasts can still be heard.
Journalists and media outlets targeted
Early last week, South Sudan's National Security Service arrested the director of the country's state television. The wife of Adil Faris Mayat said she believed it was because he refused to transmit a live broadcast of a speech by President Salva Kiir during Independence Day celebrations. He was released after 10 days.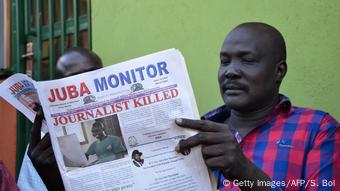 South Sudan is one of the world's most deadly countries for journalists
The arrest of Adil Faris Mayat underscores the worsening situation for journalists in South Sudan.
In 2017, South Sudan ranked 145 out of 180 countries on Reporters without Borders World Press Freedom Index, falling 34 placings since the country was founded in 2011. South Sudan also ranks fifth worst in the Committee to Protect Journalists' Global Impunity Index, which spotlights countries where journalists are murdered and their killers go free.
President Kiir has previously threatened to kill journalists for writing stories that were "against the country."
Waakhe Simon Wudu contributed to this article.