On Friday, for the first time in more than a decade, a South Korean train entered the North, as officials and engineers begin a surveying mission on the tracks.
The move is crucial to realizing Pyongyang and Seoul's shared goal of re-establishing rail connections between the two countries. The aim is to facilitate cross-border travel and trade.
"Iron Horse is now running toward the era of peace and prosperity," read a banner on the train as it pulled out of Dorasan Station, near the border.
"Through the railways that will be connected in one, the South and North will prosper together and peace in the Korean Peninsula will become firmer," South Korean Unification Minister Cho Myoung-gyon said during a ceremony at the station.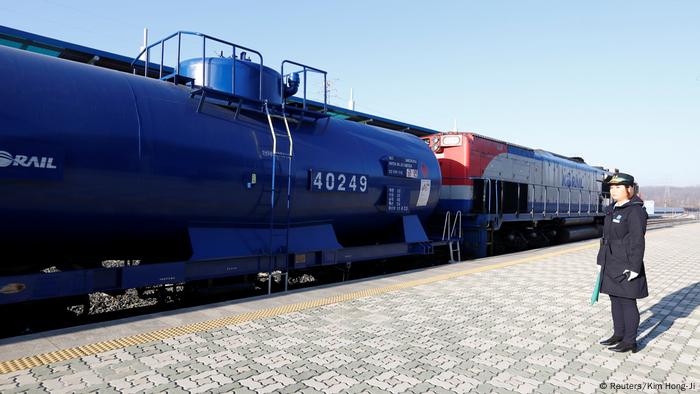 The South Korean train prepares to travel across the border into North Korea at Dorasan station in Paju
Leaders of both countries have announced a desire to break ground on a new, interconnected rail line by the end of the year.
However, US sanctions make it difficult to proceed with this plan. While Washington has signaled a willingness to roll back the penalties, it has said that North Korea must first prove that it has taken steps to abandon its nuclear and missile programs.
More signs of rapproachment
At the same time, soldiers from both sides were making another show of solidarity by removing at least 20 guard posts from the border. Teams are then going to search for human remains left over from the Korean War, marking the first-ever joint search.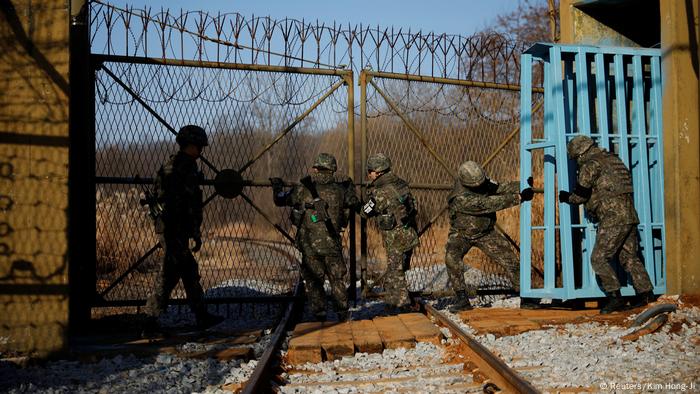 South Korean soldiers at gate into North Korea
South Korean President Moon Jae-in has met with North Korean leader Kim Jong Un, seeking to improve diplomatic relations as part of his ultimate goal to reunite the Korean peninsula. To that end, several cooperation projects have been announced, including a bid to co-host the 2032 Olympics.
es/rt (AP, AFP)
DW editors send out a selection of the day's hard news and quality feature journalism. You can sign up to receive it here.