Officials in the Philippines said gunmen from Abu Sayyaf handed Park Chil-hong (pictured, center) and Glenn Alindajao, 31, over to rebels from the Moro National Liberation Front (MNLF), who then turned them over to authorities on the island of Sulu on Saturday.
"They have been very stressed out. They were moved from one place to another, sometimes sleeping in forests, different houses, eating just dried fish and drinking water from brooks," Jesus Dureza, a senior aide to Philippines President Rodrigo Duterte who fetched the freed hostages in Sulu and brought them to the city of Davao, told news agency AFP. He was due to take them on to the capital Manila.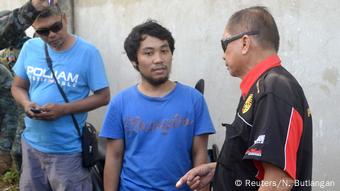 Freed hostage Glenn Alindajao, center, speaks with presidential representative Jesus Dureza, right
The men had been abducted in October from their cargo ship, the MV Dongbang Giant, as it passed through the Sibutu passage, a 29-kilometer (18-mile) wide channel between Malaysia and the southern Philippines, on its way from Australia to South Korea. About 10 armed men who the Philippines military said identified themselves as Abu Sayyaf had boarded the ship.
Many more still held captive
According to Dureza, the MNLF, which signed a peace deal with the government in 1996, helped in organizing the men's release. MNLF is of three main Philippines Muslim separatist groups, the others being the Moro Islamic Liberation Front, MILF, which signed a peace accord with the government in 2014 and Abu Sayyaf. The ship's owners also negotiated for the hostages' freedom. Dureza said he was not aware if a ransom had been paid, but if there was the government didn't have any role in it.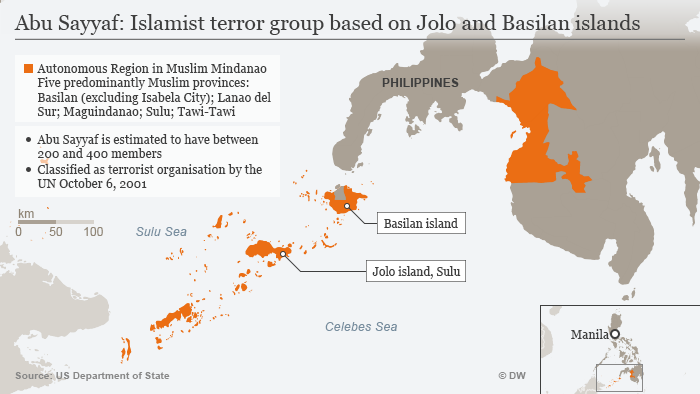 A loose network of militant factions, Abu Sayyaf began kidnappings in the waters between Malaysia, Indonesia and the Philippines last year. It was formed with funding from al-Qaeda in the 1990s and has since made millions from ransom payments and declared itself an ally of the "Islamic State" terror group.
Several dozen people from several countries, including a German sailor, were believed still to be held by Abu Sayyaf.
On taking office as Philippines president last year, Duterte vowed to defeat the small but violent Abu Sayyaf, deploying thousands of extra troops to their poverty-stricken stronghold in the southern Philippines.
se/rc (AFP, Reuters, AP)