The Philippine military said Monday it was trying to verify a claim by Abu Sayyaf militants that they had kidnapped a German man from a yacht and shot and killed his wife in the Sulu Sea. Villagers reported finding a dead woman lying beside a shotgun on board a blue yacht with the German flag and marked "Rockall" off Laparan Island in Sulu province, authorities said.
Regional military spokesman Major Filemon Tan said Abu Sayyaf had claimed the militants kidnapped 70-year-old Jürgen Kantner and killed his companion - whom AFP news agency identified as Sabine Merz - while the couple were cruising near Malaysia. Two German passports belonging to the couple were found on board. An audio recording of a known Abu Sayyaf leader claimed responsibility for the raid on the yacht, and the abducted German man also spoke in the recording, Tan said.
The couple had run into trouble before. While sailing on the 53-foot Rockall in the Gulf of Aden, Somali seized them and held them hostage for 52 days in 2008. They were released and described their ordeal - which included a mock execution in a 2009 interview.
"My boat is my life and I don't want to lose her, nothing more. I don't care about pirates and governments," Kantner said in a 2009 interview with the AFP news agency while in Berbera, the main port in Somaliland.
The Abu Sayyaf, a loose network of militants based in remote southern islands in the southern Philippines, has defied more than a decade of US-backed military operations seeking to eradicate it and has turned to lucrative kidnapping sprees in recent years.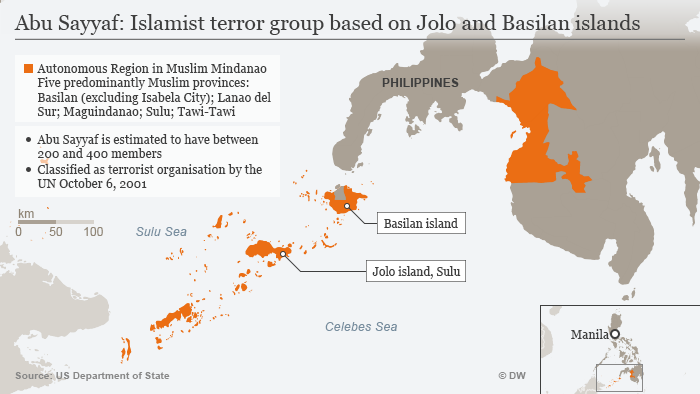 The militants abducted another German couple off a yacht in the southern Philippines in 2014 and released the pair six months later after receiving what they said was the full ransom demand of 250 million pesos (4.6 million euros, $5.1 million).
A confidential Filipino government threat assessment report seen by the Associated Press said the militants have made off with at least 353 million pesos ($7.3 million) from ransom kidnappings in the first six months of the year and have turned to abductions of foreign tugboat crews as military offensives restrict their movements. The government report said the Abu Sayyaf had 481 fighters with 438 firearms in the first half of the year but the military reported last week that it had killed 70 of the militants and captured 32 others since July.
jar/kms (AFP, AP)