Soraya Saenz de Santamaria has been tasked with restoring Spanish administration over the rebellious Catalonia region.
Known as Prime Minister Mariano Rajoy's "right hand" woman, the 46-year-old trained lawyer is a known troubleshooter and crisis manager.
The newspaper El Economista recently described her as "the most powerful woman in Spain."
Given a task in Catalonia that may make or break her career, she now will seek to manage "the greatest-ever challenge to Spanish democracy," the newspaper El Pais wrote.
Read more: Spanish media cover the 'Catalan republic'
As deputy prime minister since Rajoy took office in 2011, she was the government point person in responding to an outbreak of the deadly Ebola virus in 2014 and the Germanwings plane crash in 2015.
In 2011, she famously went back to work 11 days after having her only child, saying that the country had much to do to get itself out an economic recession and high unemployment.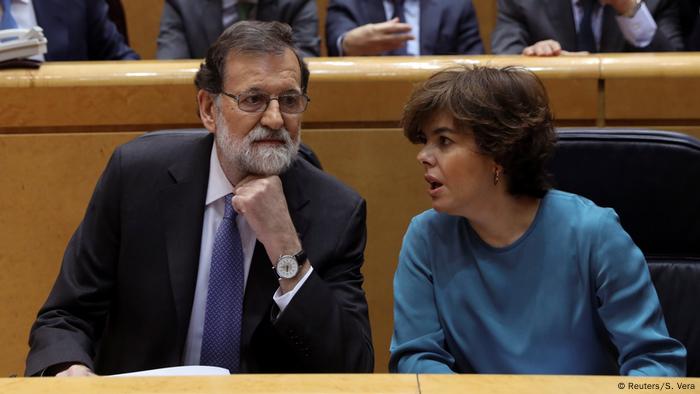 Soraya Saenz de Santamaria is Rajoy's most reliable ally
She has also been the government spokesperson and briefly headed the health and justice ministries.
Meteoric rise in politics
Crucially for her new position in administering Catalonia, since November 2016 "Soraya," as she is commonly known, has been responsible for the central government's relations with Spain's 17 regions.
Born in 1971 in Valladolid, Saenz de Santamaria studied law and later became a state prosecutor at the age of 27.
Her political career started in 2004 when she was elected to the Spanish parliament with Rajoy's conservative Popular Party (PP), which was battered in the polls over its handling of the Madrid terror attacks.
From there, she has had a meteoric rise in Spanish politics. Known as pragmatic and open to dialogue, Saenz de Santamaria is untainted by corruption scandals to hit the PP and has generally been immune to criticism for unpopular austerity reforms. She is considered one of the most popular politicians in Spain.
Some have even presented her as a potential future prime minister.
If she manages the current Catalonia crisis, "Soraya will one day be prime minister," her PP colleague Alfonso Alonso predicted.
cw/sms (dpa, Reuters)