The announcement from Sweden's Social Democrat prime minister, Stefan Lofven (above right), came within just two months of his being in office.
It follows a decision by lawmakers earlier on Wednesday to reject his center-left government's first budget proposal. Lofven called the new elections for March 22, 2015.
The prime minister must wait until December 29 to officially call the fresh vote, in line with Sweden's constitution.
Deep rift in Swedish politics
The political crisis was sparked after the unaligned anti-immigration Sweden Democrats, who hold the balance of power, effectively blocked the budget while vowing to oppose any finance bill unless the country tightened its asylum policy.
The move to rebel against the budget proposal was considered a major political breakthrough for the party, which became the country's third-largest group in parliament in the September general election.
The aim of toppling Lofven's coalition came to fruition on Wednesday as 182 lawmakers voted against the proposed budget, with 153 in favor.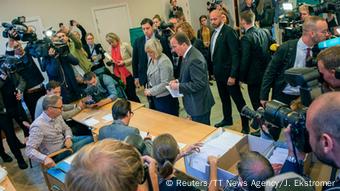 Stefan Lofven casts his vote in Sweden's general election in September
Lofven became prime minister in October as head of a coalition with the Greens. He promised to reverse many reforms by the previous center-right government.
He accused the anti-immigrant Democrats of wanting "to knock out any government that doesn't dance to their tune."
Lofven's minority government - which has 138 seats in Parliament - was expected struggle to push its agenda through the lower house.
With the support of the former Communist Left Party, which stands outside the Cabinet, it controls 159 seats.
Meanwhile, the center-right opposition, which is made up of four parties, has 141 seats, but the extra votes expected from the Sweden Democrats would be enough to topple the ruling coalition.
lw/mkg (AP, Reuters)