When asked which African countries are not connected to the new glass fibre optic network, engineer Ali Drissa Badiel has to pause for thought. He works in Addis Ababa for the UN's International Telecommunications Union and advises countries in sub-Saharan Africa on expanding and improving their telecommunications networks.
"Almost all African countries are in the process of connecting up to the glass fiber optic network," Badiel told DW. "Data transmission via fiber optics is far better than the old microwave system they used to have," he said.
Undersea cables
Not so long ago, if you wanted to transport the Internet across large distances, you had to accept that the rate of data transmission would be slow. Sub-Saharan Africa had to battle with congested networks and breakdowns. But two years ago the undersea fibre optic cable EASSy (Eastern Africa Submarine Cable System) went into operation. It runs along the East African coast connecting 21 countries to the rest of the world, some of which (such as Ethiopia and Sudan) are being networked up for the first time.
WACS (West Africa Cable System), which has been in operation since May, is even more impressive. It runs from South Africa along the West African coast to Europe.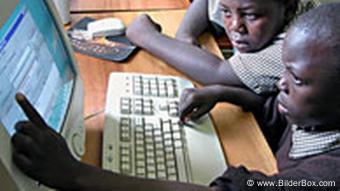 Education could benefit from increased broadband access
Only coastal states are connected directly to the cable and they pass on their Internet access to neighboring countries in the interior. Regional bodies such as ECOWAS (Economic Community of West African States) are responsible for coordinating this.
"Burkina Faso has access to the glass fiber optic network via Ivory Coast and Togo, Mali is connected up via Senegal and Niger via Benin," Badiel explains. Answering our initial question, he says he knows of only one African country not connected up to the world's broadband network - "the newly independent state of South Sudan!"
Video streaming
Much has changed since Africa acquired access to the glass fiber optic network. Communication costs have dropped, and applications that use large amounts of data (such as Skype, which streams live video) can now be used to the full extent of their capabilities for the first time.
African Internet users are ecstatic. "We are now using the glass fiber optic network and the difference to the old system is very noticeable," says Musi from Ethiopia. "With the glass fiber optic network everything goes very quickly, unfortunately it is not very widely available in our country." Rueben, a student, says many people studying can now carry out research from their laptops or even their mobile phones. "That gives us cause for optimism about the future of our country," he believes.
Broadband roll-out too slow
This enthusiasm for broadband in Africa may be immense, but only a minority has access to the Internet and this hasn't changed with arrival of the glass fiber optic network. Africa accounts for just six percent of global connectivity. Even in Nigeria, the country with the highest number of Internet users on the continent, two out of three inhabitants are deprived of entry into the World Wide Web.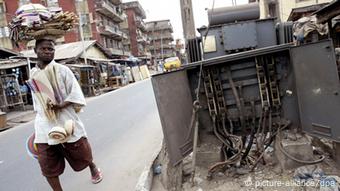 Internet access remains out of reach for many Africans
Even though prices have fallen, many people simply can't afford an Internet connection.
African countries are failing to roll out country-wide broadband access fast enough. Adbulbaker Ibrahim is an environment researcher at the University of Abubakar Tafawa Balewa in Lagos. He says their telecommunications provider is still preoccupied with bringing the glass fiber optic network to the whole country. "Nigeria is a big country and this will take time."
Bracing for a cyber future
Africa's criminal fraternity has already woken up to how they can exploit faster Internet connections. As elsewhere, African countries, too, are having to combat Internet fraud and data theft. The risk of cyber attacks on government installations is also rising. Exact figures are not available, because such incidents are not yet systematically recorded. A number of countries, though, have already appointed Computer Incident Response Teams, groups of computer forensic experts which offer advice to their respective governments.
The teams are given training by the ITU (International Teelcommunications Union) and IMPACT (International Multilateral Partnership against Cyber Threat).
Africa is connecting up to the global glass fiber optic network, but the goal of universal, fast Internet connectivity is still a long way off. Rwanda is a positive exception. It is working hard to make high speed Internet available to all its citizens across the whole country and wants to become a center for information technology in Africa.
.