All that is required is a blank text message and the rest will be taken care of by a security system called "Hei Julor". In the local dialect "Hei Julor" means "Hey thief!"
It is a mobile phone based security system developed by leading Ghanaian software engineer Herman Chinery-Hesse and his company SOFTribe.
By sending a blank SMS to the server, a security team will be dispatched and up to ten friends and neighbors will be notified of the user's plight.
Chinery-Hesse's invention was launched a year ago. He was inspired by the increasing use of the Internet and mobile phones around the globe.
He was impressed by the way these tools played a role in the Arab Spring and he decided to make use of the technology to protect his countrymen against armed attacks and robberies.
A neighbor's keeper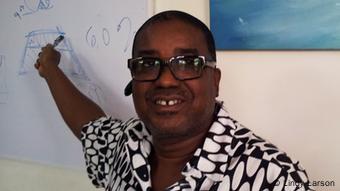 "Africa's Bill Gates" - Herman Chinery-Hesse
"We are having armed robbery problems in our country. If they could coordinate in Egypt and suddenly get thousands of people to show up, this is in line with our culture," said Chinery-Hesse.
"In our culture everyone is a neighbor's keeper. If your neighbor is attacked and you know about it, the very least you can do is to shout"Hei Julor!" and the robbers will run away."
Herman Chinery-Hesse is known as Africa's Bill Gates. Putting the Hei Julor concept into practice was not a problem for him and his colleagues.
"We had all the tools we needed, so we sat down and thought what it would take to have a cheap product that everyone could afford," he told DW.
The service costs 10 cedis (4 euros / $5) per month.
A warning sticker
To subscribe to the service, customers must first buy a starter kit which provides them with a code. The code must be sent to the SOFTribe company via SMS. The customer then receives a phone call from the company for confirmation.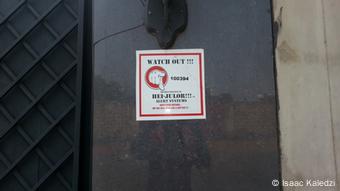 A Hei Julor sticker serves as a warning to potential robbers
In the starter kit, there is also a sticker that can be attached to a house or garden wall as a warning to potential burglars.
If someone does try to break into the house, the customer only needs to send a blank SMS to "Hei Julor" and the team will be on its way to help.
"We want to protect Ghana from becoming a rogue state full of crime," said Chinery-Hesse.
Some people have been saved through this service confirmed the company owner. One old man who suffered a stroke was taken to hospital after he sent a blank SMS to Hei Julor. He survived.
In another case, the wife of a Hei Julor customer contacted the company who rescued her from her intoxicated husband who was beating her up.
"When the team came, the drunkard started kicking and shouting. He said he was the one who has signed up and that he should be left alone. The neighbors came and it was quite embarrassing," Chinery-Hesse said.
"Unfortunately he unsubscribed. But that is OK if we lose him. His wife was safe, that's what's important."
A growing company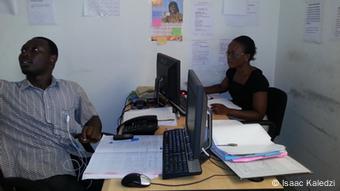 The Hei Julor center of operations
The Hey Julor's call center facility is small with servers spread across the world. By using their laptops, workers are mobile and connected all the time.
Because of its automated character, the system can sometimes trigger false alarms. But the big advantage is that people who need the service receive a swift response.
"There is no human intervention in this system. It is background machines that carry out the messages. So once you trigger it, no one can stop it," Anthonio Tettey, the CEO of SOFTribe, told DW.
Since its launch a year ago, more than a thousand customers have subscribed to the service, and the number is on the increase, Tettey says.
"We just signed on security partners which have country-wide reach and I am sure in the next couple of weeks we will be able to roll out into other regions."