Singapore Airlines is all set to recapture the crown for the world's longest nonstop commercial flight after its Flight SQ22 took off from Singapore, heading to New York on Thursday.
The airline is relaunching the service five years after it abandoned it because high oil prices made the route unprofitable.
However, Singapore Airlines is now operating the long-range Airbus A350-900ULR on the route. Airbus says the aircraft, which is capable of flying over 20 hours without stopping, is designed to use less fuel.
The plane also boasts of spacious "elegantly lit" interiors, higher-than-normal ceilings and wider seats aimed at reducing jet lag.
The 16,700-kilometer (10,400 mile) journey between the Asian hub and the Big Apple will take just under 19 hours, topping the existing long-haul flights by a distance.
Qatar Airways holds the current record for the world's longest nonstop flight — a 17-hour 40-minute marathon journey from Doha to Auckland, New Zealand. Qantas Airlines launched a 17-hour non-stop service between Perth and London — a distance of nearly 15,000 kilometers — earlier this year.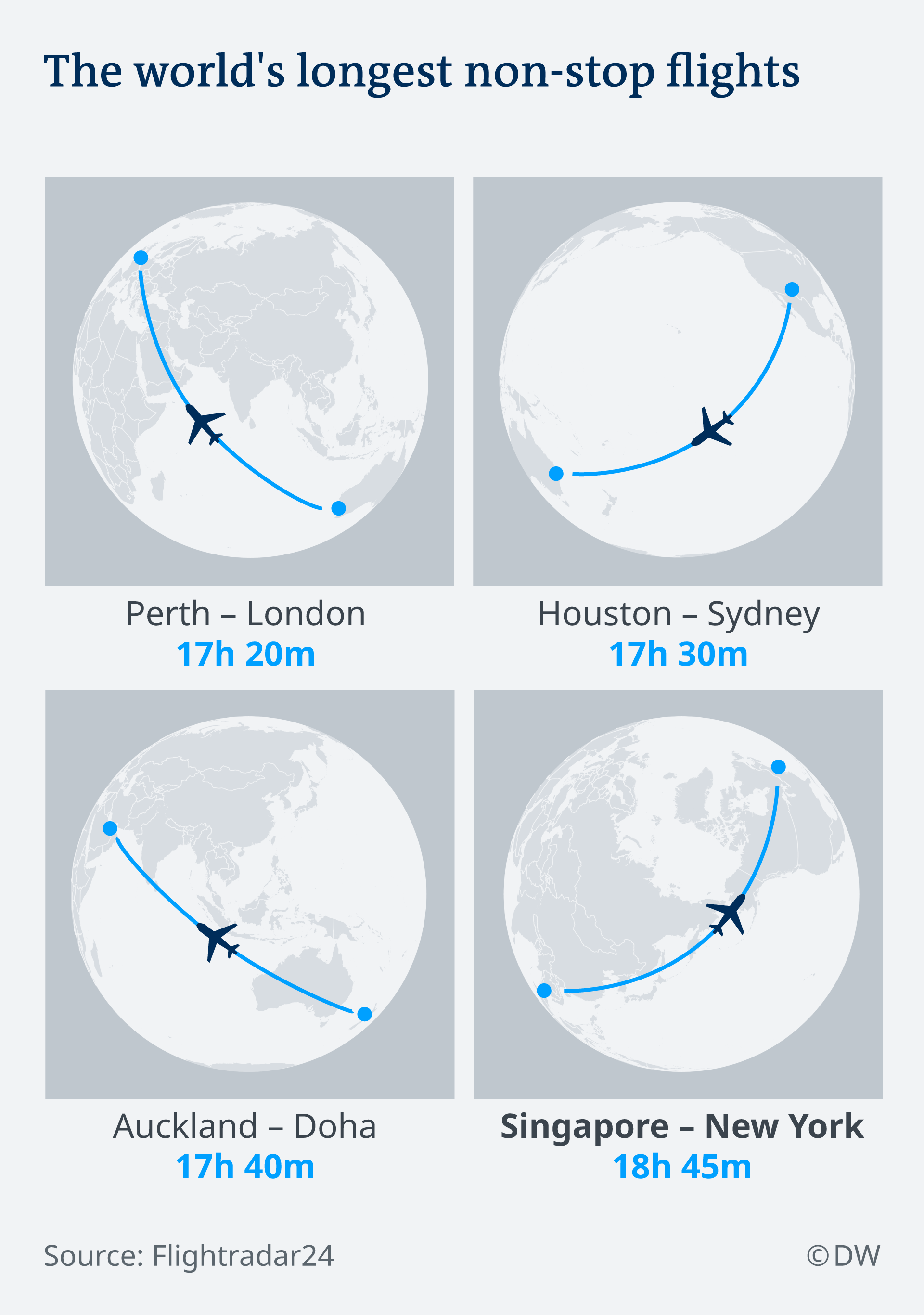 No economy class
Singapore Airlines is not offering economy class bookings on the route to avoid passengers being too crammed.
Its aircraft is configured to carry 161 passengers: 67 in business class and 94 in premium economy.
Ahead of the departure at midnight local time, some passengers told the AFP news agency they were worried about finding ways to pass the flight time.
"I'm thinking of sleeping, watching TV, doing my work," said 52-year-old Peggy Ang, a director of an IT firm. "I have a lot of notes to read, hopefully I can sleep well."
Others were enthusiastic to experience the longest flight in the world, including 50-year-old engineer Danny Ong, who holds a return ticket.
"I'm coming back on the next flight," he told AFP agency. "I enjoy the passion of flying."
'Wellness' in the air
On the Singapore Airlines website, one-way premium economy tickets were going for close to 3,000 Singapore dollars (€1,900, $2,200) and business for 7,900 Singapore dollars.
The flight has two pilots and two first officers, aided by a 13-people cabin crew. The passengers will be offered a special "wellness" menu comprising organic dishes, specially designed for long haul flights, as well as over 1,200 hours of audio-visual entertainment to choose from.
"Research has shown that hydration and food intake are important factors (to consider), such as avoiding foods that cause gas or bloating as well as excessive alcohol," said Rhenu Bhuller, a health-care expert at consultancy Frost & Sullivan.
"The biggest concern is Deep Vein Thrombosis from a combination of sitting for too long and also from dehydration," said Gail Cross, an associate consultant at the National University Hospital in Singapore.
More fuel-efficient planes on the way
Despite the rise in oil prices, several big airlines hope to secure the market of ultra-long-haul flights by using fuel-efficient planes.
Singapore Airlines is the first company in the world to operate Airbus' A350-900ULR. The first aircraft was delivered in September, and six more are due to arrive before the end of the year.
Senior Singapore Airlines executive Campbell Wilson said the Airbus A350-900ULR consumes 25 percent less fuel than an older generation aircraft of the same size.
"It allows us to offer a service that eliminates a transfer in the middle, it saves people six hours, it gets people there in comfort ... we think it's going to be a good success," Wilson said.
ap,dj/ng (AFP, dpa)
Each evening at 1830 UTC, DW's editors send out a selection of the day's hard news and quality feature journalism. You can sign up to receive it directly here.