So far there is no indication that promotion to Serie B will be coming anytime soon. The players walk off the pitch at the Brianteo Stadium to the jeers of around a thousand ultras.
They've just lost 2-0 at home to Serie C rivals Pordenone. Despite the defeat, the hosts played the better football, with a few moments of skill reminiscent of some of the gifted players of the great AC Milan sides of the 1990s. But even when their opponents went down to 10 men, Monza couldn't mount a comeback.
Silvio Berlusconi, who bought the club back in September, was not in the stadium for this mid-November game, even though he does own a property in Arcore, just 10 kilometers (6 miles) away. When the 82-year-old peers out of the window of his country home, he can probably see the floodlights. That may have been more than close enough on this particular Saturday, as Berlusconi was able to avoid the frustration of the 2,353 spectators who did turn up, sweeping a grand total of €11,715.43 ($13,324) into the club's coffers.
While Berlusconi wasn't present, his longtime associate, Adriano Galliani, was. In his more than three decades as vice chairman and CEO of AC Milan, Galliani guided the then-star-studded Rossoneri to numerous Serie A and Champions League triumphs.
Hometown hero
However, Galliani is also prominent figure in Monza, a city of around 120,000, about 15 kilometers northeast of Milan. He was born there in 1944, and spent eight years working for the local municipality. Later, he also spent nine years at SS Monza. Now that he is back, he never tires of pointing out that: "I was always a Monza guy, I was only out on loan at AC Milan for 31 years. Now I am back."
And given the proximity of new owner Berlusconi's country home in Arcore, it's easy to make the argument that he too has local roots.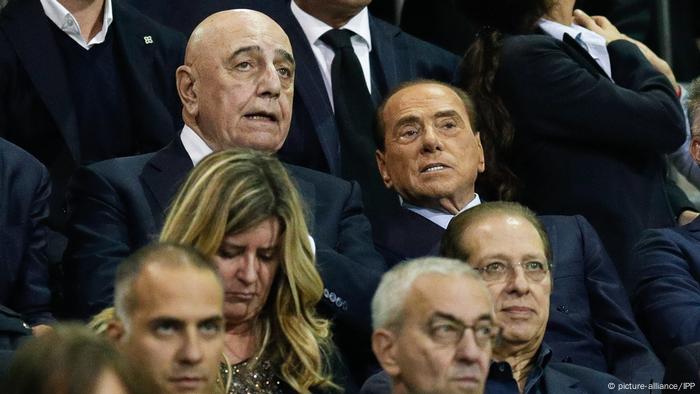 Adriano Galliani (top left) has been a faithful servant of Silvio Berlusconi (to his right) for more than three decades.
Not quite RB Leipzig, more like an Italian Hoffenheim
It wouldn't be fair to compare SS Monza 1912 to a test-tube club like RB Leipzig, which came into existence in 2009, when Austrian energy-drink maker Red Bull slipped under the DFB's (German Football Association) radar to take over fifth-tier Makranstädt.
There are stronger parallels with the Bundesliga's other nouveau-riche club, TSG 1899 Hoffenheim. As is the case with Monza, there is local ownership in Hoffenheim in the shape of SAP founder Dietmar Hopp. His financial clout outmatched anything the competition could offer after he returned to the club of his youth in 2000. However, while Hopp bought himself a new toy to get into professional football, Berlusconi has returned to the game, like someone who just can't stay away from the game and all of the media attention that goes with it.
"Football is like a drug," is how Monza's sporting director, Filippo Antonelli, explains the involvement of the media mogul and politician. Antonelli has been with the club for the past four years.
"Berlusconi and Galliani really love football. You can feel this when they speak about football. They bring with them enough experience and capital to significantly improve the structures here," he told DW. The overarching strategy is to invest in the club's youth system and develop talent from within.
Serie A, national team, Champions League?
The club's immediate aim is to gain promotion to Serie B by 2020 – at the latest.
"Our medium-term goal is to get to Serie A, but we intend to be patient and focus on developing Italian players. If some of them get called up to the national team, that will be even better," Antonelli said. He is also in full support of Berlusconi's nostalgic strategy.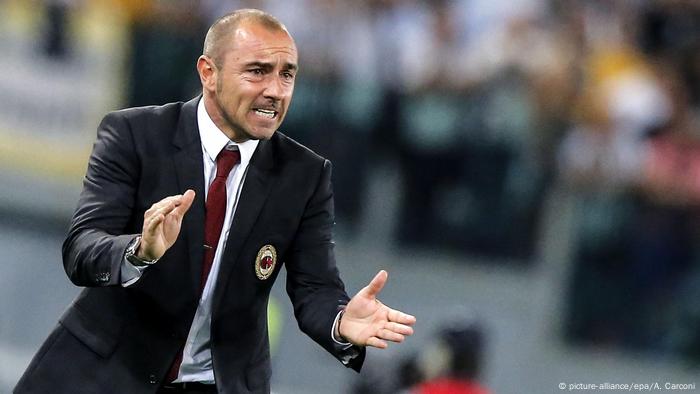 Cristian Brocchi - an exception to Silvio Berlusconi's no-tatoo policy
"The idea is to make things like they were at AC Milan in the old days. The core of the team is to be Italian – with just three foreigners added on. That's the formula," he stresses.
However, the sporting director has tried to persuade Berlusconi to be flexible on his demand that none of the players have tattoos or crazy hairstyles. Antonelli knows that these days, fielding a team of players without tattoos is a very tall order indeed; even coach Cristian Brochi, who Berlusconi brought with him from AC Milan, has them.
There are emotional, economic and political aspects to Berlusconi's return to football. When he sold AC Milan last year, he portrayed himself almost as a victim, as somebody very much in mourning.
"The sums needed to compete at the very top can no longer be generated by a single family. This is why we have had to sell," he said.
His holding company Finninvest brought in an estimated €600 million for the sale of AC Milan, while only having to pay the relative pittance of €3 million for SS Monza.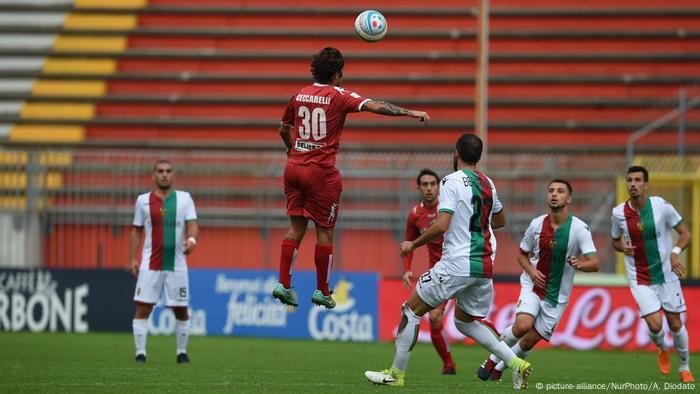 Most of the stands are still empty when SS Monza (red jerseys) play their home games
Political calculation?
Berlusconi's return may in part have to do with the poor election results of his political party, Forza Italia this past spring, when he said: "I will probably have to return to Milan. The political analysts see a link between Forza Italia's poor election results and the sale of AC Milan."
By putting an emphasis on Italian players, Berlusconi is playing on northern Italians' national pride, while the anti-tattoo campaign suggests a return to traditional values. Quite apart from how the club does on the pitch, Berlusconi is clearly aiming to win back supporters to the right of the political spectrum that Forza Italia lost to the provincial nationalists of Lega Nord.
You won't hear any talk of the Champions League around Monza – that would sound too elitist, too much like that from which they want to distance themselves. And building up a high-enough level of regular support to make Monza a promising financial venture will likely be impossible – unless something major goes wrong at either AC Milan or Inter.