German conglomerate Siemens saw a 10 percent drop in industrial profit in its fiscal fourth quarter due to its power and wind turbine businesses struggling with price pressure and overcapacity, the company admitted on Thursday.
Industrial profit, which excludes earnings from its financial and corporate activities, fell to €2.2 billion euros ($2.6 billion) in the quarter to September, against expectations of about €2.49 billion.
Profit from Siemens Power and Gas, dropped 40 percent to €303 million, forcing the firm's CEO Jo Kaeser to admit to a "painful" restructuring of the unit.
Revamp overdue
"Our power and gas division has been struggling for some time with very difficult market conditions and structural challenges," Kaeser told a press conference in Munich on Thursday.
"If this business is to have a future, then we have to react. We have to adjust our scope, even if it means painful cuts."
Kaeser also admitted that "conglomerates of the old-fashioned kind have no future."
Read more: Ex-Siemens CEO Klaus Kleinfeld thinking big again
Meanwhile, German media speculated ahead of his media briefing that Siemens would announce a further 4,000 job cuts, although no new redundancies were announced.
Earlier this week, the conglomerate announced it would be cutting 6,000 positions at its subsidiary wind turbine manufacturer Siemens Gamesa from a 27,000-strong workforce.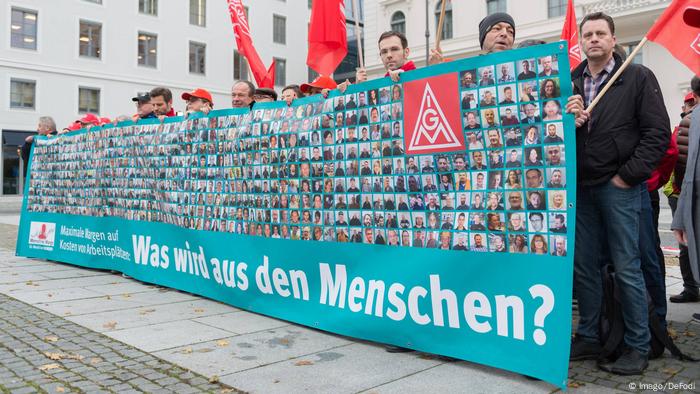 Amid fears of job losses, around 50 Siemens employees held a protest outside Thursday's investor press conference
The company, which was created last year when the Spanish and Germany wind power firms merged, will see staff redundancies in 24 countries.
Siemens Gamesa is suffering from a slump in demand, especially for large gas turbines.
Health IPO
The restructuring of its power unit is not the only change facing the industrial giant. Siemens is preparing to list its €40-billion healthcare business and put its trains business into a joint venture with Alstom.
It will now focus more clearly on its industrial automation division, Digital Factory, where it is the market leader. Factory automation is an increasingly attractive business, with China targeting rapid growth in domestically manufactured goods.
Read more: Siemens banks on Mexico for business
Overall, Siemens reported an 11 percent rise in net profits in 2016/17 to €6 billion ($7 billion) on Thursday. Revenues grew 4.3 percent to €83 billion, while operating profit rose 12 percent year-on-year to €8.3 billion.
IIn the fourth quarter, group sales climbed 2 per cent to €22.3 billion.
Despite problems at the group's power and gas division, its trains, industrial automation and health businesses reported increasing profits.
mm/aos (AFP, dpa, Reuters)