The Sukhoi Superjet dropped off the radar after takeoff from Jakarta after its crew signaled a drop in altitude from 3,000 meters to 1,800 meters. The medium-size airliner was developed by Russia to restore its aviation prestige, with Italian involvement.
Indonesian rescue chief Marsdya Daryatmo said bad weather had forced two search helicopters to turn back before dark on Wednesday.
A local Salak region television channel TVOne quoted a villager, Juanda, as saying he did not hear any mpact.
"I saw a big plane passing over my house. It was veering side a bit to one side, the engine roaring. It seemed to be heading toward Salak [part of Java's volcanic mountain chain]."
Piloted by Russian veteran
Russia's RIA Novosti news agency named the Superjet's captain as Alexander Yablontsev, 57, a veteran pilot. On board were eight Russians, comprising crew and Sukhoi representatives, and 36 people of other nationalities.
A list posted at east Jakarta's airport Halim Perdanakusuma indicated that most were Indonesian airline and aviation representatives, plus five journalists.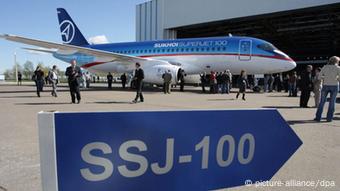 Russia unveiled the superjet with 103-seat capacity in 2007
First unveiled in 2007, the Sukhoi Superjet 100 is already in use by Russia's Aeroflot and the Armenian carrier Armavia. Sukhoi, based in Siberia, has orders for 170 planes worldwide. The design is a joint project involving Italy's Alenia Aeronautica.
The airliner was half way through a six-nation Asian tour to find customers. Indonesia's official Antara news agency said the order list included Indonesia's domestic carrier Kartika Airlines and Sky Aviation.
The news agency Interfax quoted a Russian industry ministry source as saying that the plane was "in perfect condition."
Land-based search and rescue efforts, involving soldiers, police and air force personnel, were expected to continue through Wednesday night, local time.
ipj/ng (Reuters, AFP, AP)