Who's in charge of what?
Sigmar Gabriel is resigning in the three-fold sense: as chairman of the center-left Social Democratic Party (SPD), as the presumptive SPD candidate for chancellor against incumbent Angela Merkel and as Economy and Energy Minister. Former EU Parliamentary President Martin Schulz succeeds Gabriel in the first two functions, becoming the new leader of the Social Democrats.
The 62-year-old Brigitte Zypries - a former justice minister and SPD veteran - takes over as Economy Minister for the rest of this legislative period. She plans to give up her Bundestag mandate after the election in September.
Gabriel will become Germany's new foreign minister, succeeding Frank-Walter Steinmeier. Steinmeier is the joint candidate of Social Democrats and the conservative Christian Democrats (CDU), along with their Bavarian Christian Social Union (CSU) cousins, for the office of German President. Barring a political earthquake, he will take over from Joachim Gauck, when Germany's Federal Convention convenes on February 12.
Why did Gabriel step down?
Almost everyone expected Gabriel to run against Merkel, but as he himself said when announcing his decision to stand down, he didn't think he had any chance of beating the popular conservative chancellor.
However, his decision has probably as much to do with his own political career as with the good of the party. Having already declined to run for chancellor once, he couldn't realistically have remained party chairman had he backed away from challenging Merkel again. But with the SPD mired at around 20 percent support in beginning-of-year polls, that looked like a lost battle. And a massive defeat in September could have been politically fatal for Gabriel.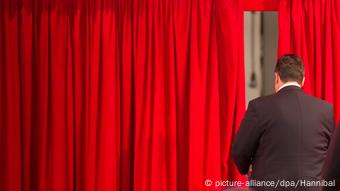 Gabriel has made way but not withdrawn completely
By becoming foreign minister, he keeps his career alive, and if the result of the election is a continuation of the grand coalition between the conservatives and the SPD, he could stay on in that position. Plus it might improve his poor favorability ratings since foreign ministers are usually popular with the German public.
Will Schulz improve the SPD's chances?
If you believe the polls, yes. In a battery of surveys of various groups, Schulz dramatically outperformed Gabriel. For example, in a prominent poll head-to-head with Merkel, commissioned by "Bild" newspaper at the beginning of the year, Schulz trailed the chancellor by only a single percentage point, 39 to 38. That compared to 46 percent for Merkel and only 27 percent for Gabriel when they were matched. Other polls showed Schulz further behind Merkel but consistently ahead of Gabriel.
Potential coalition partners also preferred Schulz to Gabriel, and the numbers among party members and traditional SPD voters were similar in polls conducted by the SPD itself. Schulz's one weakness is the fact that having worked in Brussels until late last year, he's not as well known to the general public as Gabriel.
Moreover, as someone who is not part of the current grand coalition cabinet, Schulz is free to speak his mind and thus is much better positioned to criticize Merkel than Gabriel would have been. The SPD can now claim more plausibly that it has hit the reboot button and deserves a chance to lead a government.
What will Schulz mean for SPD policy
German candidates for chancellor are much more tightly connected to their parties and party platforms than is the case, for instance, in the United States. So the replacement of Gabriel with Schulz won't entail a seismic shift in SPD policies.
What it does do is pre-ordain the party's strategy in terms of internationalism. In elevating Schulz to the top spot, the party is essentially doubling down on its support for a strong European Union. If there was ever any question of the SPD trying to co-opt issues from the anti-EU, anti-immigration populist party, Alternative for Germany (AfD), they are now dead and buried. As a former EU parliamentary president, Schulz is sure to argue that Germany's interests lie in protecting and strengthening the bloc.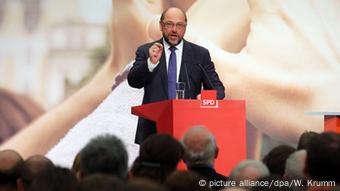 Schulz is a more charismatic alternative
What effect could Schulz have on coalitions?
That all depends on how much the Social Democrats recover under his leadership. The SPD began 2017 some 15 percentage points behind the CDU. It would take a small political miracle for Schulz's party, together with its potential coalition partners, to wrest control of the government away from Merkel.
But with the AfD expected to eat up 10 to 20 percent of the vote, the CDU may have trouble forming a parliamentary majority as well. If Schulz can increase the SPD's share of the ballots by a couple percentage points, it could rule out virtually all options except a continuation of the current grand coalition.
Whether that would be in the Social Democrats' best interest is another question. The SPD has declined to historically low levels of support as the junior members of a governing partnership with Merkel's CDU.
What do the other parties think of Schulz?
Despite indicating in polls that they preferred Schulz to Gabriel, the Greens and the Left Party - two possible coalition partners - had little good to say about him when his candidacy was announced. That's not surprising. After all, they want to attract voters for their own agendas and candidates.
The CDU didn't seem initially very worried about the new challenger. Members of the conservative party sniggered that Schulz candidacy was a "premature birth" - a reference to the hasty announcement of the SPD shake-up on January 24, after Gabriel's decision leaked to the press.
What do the German media think?
While surprised by the shake-up, most journalistic observers saw the change at the top as the only chance for the SPD to revive a moribund-looking political campaign. Schulz was hailed as a fresher, more combative, more charismatic, closer-to-the-common-man alternative to the sometimes prickly and stuffy Gabriel.
But almost no one believed that Schulz would be able to knock Merkel off her perch. And some in the conservative media characterized Schulz as a representative of the "establishment" and thought his close ties with the EU would come back to haunt him amidst a resurgence of nationalism and popular anger with Brussels.