The timing could not be more inappropriate. Last Friday, Palestinian President Mahmoud Abbas did as he had said he would and made a formal application for full membership of the United Nations.
He said he had been moved to take his request to the UN after almost two decades of failed peace talks, and that the time had come for independence, for what he termed the "Palestinian spring."
Israeli Prime Minister Benjamin Netanyahu responded to the membership bid, on which a vote is not expected for weeks, with a speech telling President Abbas that they should stop negotiating about negotiations.
"Let's just get on with it. Let's negotiate peace," he said, inviting Abbas to meet him to talk. "If we genuinely want peace, what is there to stop us?" he asked.
A symbolic response
For the Palestinians and many observers, Israel answered that question on Tuesday when it announced that a district committee had approved the construction of 1,100 new houses in the Gilo district of East Jerusalem.
Palestinian negotiator Saeb Erekat says the decision is a 'no' to peace talks
"Israel has said 1,100 no's to the resumption of negotiations, to the two-state solution," Palestinian chief negotiator Saeb Erekat told reporters, adding that it was "a slap in the face to all international efforts to protect the fading prospects of peace in the region."
But Sylke Tempel, Middle East expert with the German Council on Foreign Relations (DGAP), says she is not convinced that Netanyahu's administration truly understands the significance of settlement building to the outside world.
"There is a gap in perception," she told Deutsche Welle. "For Israel it is security and an acceptance that the state is not going anywhere, that are the obstacle to peace. It is not settlements."
No strings attached
Tempel says to the Israeli mind the Gilo site, which is located between Jerusalem and Bethlehem, is "just construction work within Israel." Yet for the Palestinians, who want to create a state in the occupied West Bank and Gaza Strip, with East Jerusalem as the capital, "it is clearly a settlement." And as such equally clearly an act of provocation.
Abbas has made it clear that he will not resume peace talks until Israel agrees to renew the freeze - which expired last year - on any further construction projects. But Netanyahu rejects the condition, insisting that if the Palestinians want to negotiate, it must be without pre-requisites.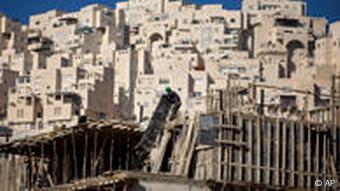 Hotly contested East Jerusalem
Cul-de-sac
The decision to press ahead with more controversial building has ruffled feathers across the international community.
US Secretary of State Hillary Clinton described it as "counter-productive" to efforts to kick-start peace talks. And European Union foreign policy chief Catherine Ashton said the EU views settlement construction illegal under international law and insisted that "the plan should be reversed."
At the end of last week, the Middle East quartet, which comprises the US, the EU, Russia and the United Nations, warned both sides to the conflict to refrain from the kind of "provocative actions" that could keep them away from the negotiating table.
Margaret Johannsen, Senior Research Fellow at the Institute for Peace Research and Security Policy at the University of Hamburg, said the timing of the announcement is indicative of Israel's "don't care" attitude, and further proof that the current government is not interested in reaching a lasting solution.
"Past negotiations were principally a process not leading to peace, and it seems that the Israeli government is willing to continue this kind of approach," she told Deutsche Welle. "I believe the only way for the Palestinians to achieve a just and two-state solution is to wait for elections and a new Israeli government."
Short-sighted approach
She says she would like to see Europe come to its senses over Middle-East peace, and not just "stand beside the US" and engage in a "quasi ritual backing of the stance of the Israeli government." Such an approach, she holds, is not even in Israel's interests. Israeli Prime Minister Benjamin Netanyahu has ruffled feathers
"Israel is moving into isolation, and it is not splendid isolation," Johannsen stressed. "It should be an integrated part of the region and welcome democratic transformation."
Only then could it move away from the constant need to be armed in preparation for the worst - a state which is bad for the national psyche.
Daniel Levy, senior fellow at the European Council on Foreign Relations, believes that the EU has already shown signs of distancing itself from the US over the conflict. As one example, he cites Europe's proposed parameters for resuming negotiations.
"They would have asked more serious questions of the two parties involved," he said, adding that the Americans were not willing to go along with them.
The question now, he says, is how far the EU is willing to go out on a limb in demonstrating a lack of patience with Israel's more egregious policies, and to what extent its 27 members can hold together in doing that.
"I would suggest we are seeing some mini steps in that direction," Levy said. "And I think that procedure is the shape of things to come."
Author: Tamsin Walker
Editor: Rob Mudge