Authorities in Serbia have launched an investigation after a MiG-21 jet crashed into a village on Friday. The country's defense ministry confirmed both of the pilots were dead. The statement described the flight as a "regular flying mission" without providing details.
"Before takeoff, the MiG-21 airplane was checked in accordance with the procedure and after the examination it was determined that it was operating normally and was ready for flight," the defense officials said.
Read more: Russian MiG-29 fighter jet crashes off Syria
The plane crashed into a yard of a house in the Brasina village, near the Bosnian border, with one of the villagers also hospitalized for burns, reported Serbian public broadcaster RTS. Another local resident described seeing the plane spinning and turning in the air.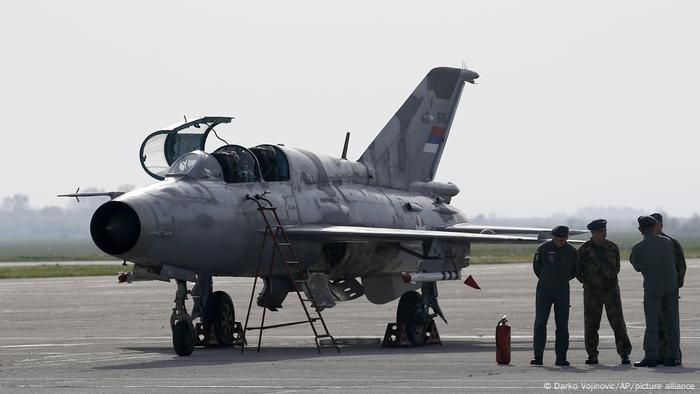 The Serbian military has been using the outdated MiG-21 aircraft for training purposes
'Old-timer' better suited to air shows
MiG-21 fighter jets were introduced to the Soviet air force in 1959. The Serbian military inherited the planes from the air force of former Yugoslavia, which bought its most recent MiG-21 squadron in 1983. Today, the planes are considered severely outdated. The Serbian defense ministry has been using its remaining MiG-21 aircraft for training purposes. The plane that crashed on Friday is believed to be the last active jet of its type in the Serbian air force.
Talking to the regional N1 broadcaster, military analyst Aleksandar Radic described the MiG-21 as an "old-timer that should have been kept for air shows."
The impoverished Balkan country, which attempts to maintain a delicate military balance between NATO and its traditional ally Russia, also operates a squadron of more modern MiG-29s. Under strongman Aleksandar Vucic, Belgrade has been seeking to project more military power in the region.
dj/msh (AP, dpa, Beta)