In Germany, where drug prices are higher than the rest of Europe, certified pharmacists have a virtual monopoly on the sale of over-the-counter and prescription drugs. So when DocMorris, Europe's first mail order pharmacy opened its first affiliate in the western city of Saarbrücken last July and sold non-prescription medication at discount prices, competitors forced the state courts to shut it down in September.
Now, nearly four months later, the Dutch Internet retailer and pharmacy chain wants to get around the German Pharmacy Act, which does not permit corporate entities to sell drugs and limits ownership to three branches that must be in close proximity to each other, by paying pharmacy owners licensing fees to sell its products.
Opening 500 franchises through a legal loophole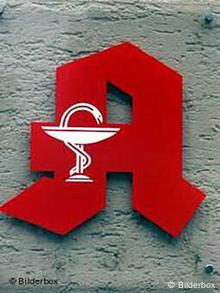 Prescription and non-prescription drugs can only be sold in pharmacies
On Monday, in a second attempt to establish a franchise in the small Saarland town of St. Wendel, DocMorris' chief executive Ralf Däinghaus said he is planning to open 500 affiliates throughout Germany over the next three years, with the next one scheduled to come in the northern city of Bremen.
He said pharmacies that choose to join his chain would be able to offer over-the-counter medication for up to 30 percent less than other established brands. Although the Dutch chain has paid out 25 million euros ($32.5 million) in rebates to customers, its pharmaceuticals are still less expensive than those of its competitors.
The price of prescription drugs, however, are fixed and will not be subject to the discounts, although Däinghaus told the German press that he will push to deregulate that sector as well.
Pharmacy lobby not impressed
"Mr. Däinghaus is trying out a new business model, but that does not frighten us," said Heinz-Günter Wolf, president of the German pharmacists association.
Traditional pharmacists, who have staged protests against reforms that they say threaten their existence, argue that they undergo vigorous professional training that enables them to dispense health advice to patients, whereas discounters who have no medical background pose a health hazard to the public.
Although paying out licensing fees reduce company profits, Däinghaus told the German daily Süddeutssche Zeitung that he is banking on high volume sales to make up for the wafer-thin margins, adding that pharmacists are "running at us" to join.
EU anti-trust law takes precedence over national law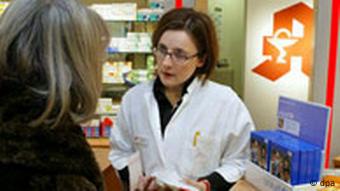 German pharmacists are trained to dispense health advice
DocMorris was incorporated in the Netherlands, but the company's main market is Germany, where over 700,000 customers have been able to order both over-the-counter and prescription medication via the Internet, telephone and mail order. More than half of its customers are over the age of 50 and tend to live in metropolitan areas.
The service is integrated in the German healthcare system and aimed at patients who have long-term or chronic illnesses, such as rheumatism, diabetes heart disorders and asthma.
In his anti-trust battle with the pharmaceutical lobby, Däinghaus could eventually have the final arbiter, the European Court of Justice, on his side. Saarland's Health Minister Josef Hecken, who permitted the first DocMorris franchise to open in Saarbrücken has said that EU law entitling any European citizen to set up business anywhere in the Union "takes precedence over national law."