The death toll from floods and landslides caused by two weeks of torrential monsoons in South Asia has reached 85, officials and news sources reported on Sunday. In Nepal alone, up to 50 people were said to have died in floods and landslides caused by monsoon rains across the country, while dozens more were missing.
Read more: German advisers recommend CO2 pricing as 'central instrument'
Nepal's weather department issued a high alert for the southern Koshi River and sent SMS warnings to people in the area. "Our first priority is lifesaving rescue," Nepalese Home Ministry official Umakanta Adhikari told the AFP news agency, "and all our resources have been deployed."
In Bangladesh, at least 16 people have been killed in lightning strikes, flooding and landslides. The country's weather agency warned of further landslides and urged locals to move to safe locations.
Read more: Climate change poses dire challenges for Bangladesh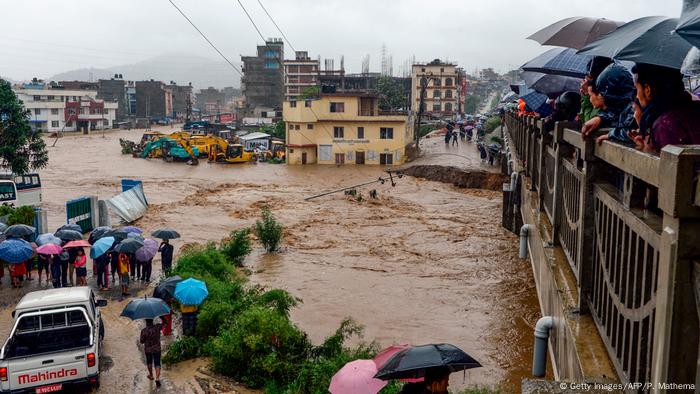 Nepal has been particularly hard-hit
Police used boats to bring people to safety as rivers swelled, inundating their settlements, while parents carrying children on their shoulders waded through chest-high waters. About 8,000 people rendered homeless by the floods have taken refuge in 68 government-run relief camps.
Read more: Is Netflix bad for the environment? How streaming video contributes to climate change
The monsoon season, which lasts from June to September, causes widespread death and destruction across South Asia each year. Last year, more than 1,200 people died across the region in monsoon storms.
Aid groups have distributed rations to Rohingya refugees in southeastern Bangladesh. On Friday, the UN World Food Programme reported that two people, including a child, had died there.
'Situation is serious'
In India, disaster teams worked to rescue residents from 1,556 inundated villages across 21 of the 33 districts in the northeastern state of Assam, while agencies provided food and medical supplies to flood victims. The waters in Assam's Brahmaputra River and its tributaries have continued to rise, inundating new areas in recent days.
Read more: Mumbai wall collapses onto shanties during monsoon
"The flood situation is serious," an official at the state disaster management control room told news agencies on Saturday. "A total of 869,024 people have been affected, including being displaced, stranded in their homes, or having suffered damages to their crops, land and livelihood." The official added: "While five people died washed away by floods, one was killed in a landslide. All the deaths were reported since Wednesday."
The weather office predicts that heavy rains will continue to lash the region for days.
kw,mkg/tj (Reuters, AFP, dpa)
Every evening, DW sends out a selection of the day's news and features. Sign up here.