Schröder, who visited Putin to join the latter's 53rd birthday celebrations in his hometown, said that he had not come to Russia for an official visit.
"This is neither a farewell visit, nor my first visit has head of government," he said after arriving for a two-day visit on Friday. "This is a visit of friendship."
But the two-day visit may indeed be Schröder's last trip to Russia as German leader as talks between the chancellor and his Christian Democratic rival Angela Merkel, whose party narrowly won more seats in parliamentary elections last month, approach an endgame that points to Schröder's resignation.
But the German leader said it was still an open question what shape a coalition government between his Social Democrats and Merkel's Christian Democrats would take.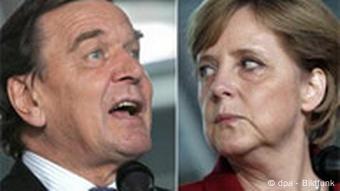 Schröder and Merkel are still fighting for the chancellorship
"The chances are high that our two parties will form a coalition government, but what will it look like? That is yet to be discussed," he said, adding that he was "convinced that a high level of continuity would be ensured, whatever changes there are in Germany."
Foreign Minister Schröder?
Schröder's trip to Russia was partially responsible for delaying a final decision on Germany's next government. A final installment of talks between Social Democrats and Christian Democrats is now scheduled for 8 p.m. local time on Sunday. But the leaders have stressed that a decision may not be officially announced until Monday, because they first want to inform their parties about the result.
A poll by German public television ARD released on Friday showed that Germans were getting increasingly weary of the standoff, with 41 percent wanting Schröder to step down and 39 percent saying both he and Merkel should go.
The top-selling Bild newspaper on Friday meanwhile raised the possibility that Schröder would drop down to vice-chancellor and foreign minister in a Merkel-led administration.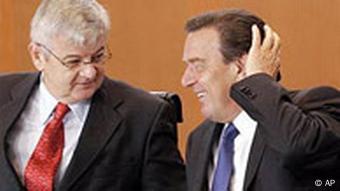 Could Schröder replace Foreign Minister Joschka Fischer?
The chancellor angrily rejected such suggestions as a "personal insult," according to a report in the Düsseldorf-based Westdeutsche Zeitung. But Social Democrat sources suggest that his own allies were not ruling it out.
Support from Putin
Schröder's visit for Putin's birthday bash is the eighth meeting between the two leaders this year and follows the Russian president's trip for the German leader's own 61st birthday in April.
Putin thanked the German leader for his visit, saying he appreciated it all the more considering the tense political climate in Germany.
"We know how difficult the situation is in Germany and despite that you found the time to come here," he said.
Sergei Kazenov, from the Global Economics and International Relations Institute in Moscow, said Putin was demonstrating his support for Schröder at a difficult time.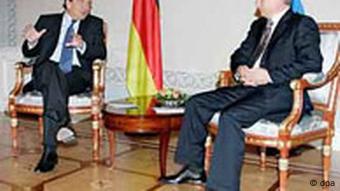 Schröder and Putin talking on Friday
"Putin wants to support his friend Gerhard after the election and show that he will not betray an old friendship," he said. "Russo-German relations were given priority by Moscow under Schröder's chancellorship. And the Russian president wants them to remain at the same level under a new German leadership."
Friendly relations between Schroeder and Putin, who was a KGB agent in East Germany in the late 1980s and speaks fluent German, have developed since the Russian president came to power in 2000 and have enhanced Putin's image in Russia as an international statesman.
But they have proved controversial in Germany, where opposition forces have attacked the chancellor for not being critical enough on human rights abuses, the Chechen war and a high-profile investigation into former Russian oil giant Yukos.
There are 3,000 German companies operating in Russia and Germany is Russia's largest trading partner, with a trade turnover of 30 billion euros ($36.3 billion) between the two in 2004.